Keeping my Tootsies Toasty with the Honeywell UberHeat Ceramic Heater
It's been a pretty mild winter here, compared to winters past, but it's been cold enough to keep the heat running quite a bit. For some people turning on the heat is probably sufficient, but not for me.  I'm one of those people who gets a chill and doesn't warm up for months. It's no good.
So obviously I wear layers during the winter, even inside, and I never have bare feet (cozy socks all the way). But still, sometimes my feet get cold and it just travels up my body until I'm shivering. I recently decided to tackle this problem head-on with a space heater, and the Honeywell UberHeat Ceramic Heater has been a real superhero.

The Honeywell UberHeat Ceramic Heater is a little thing (only 9.02″ x 6.5″ x 10.24″), but it packs a powerful punch. It's a 1500 watt heater that provides quick and even heat for your home. It comes with two heat settings, and you can use it in small, targeted spaces (like on your desk), or use it as supplemental heating for a room that doesn't get the best heat.

Speaking of rooms that are poorly heated, that's where my UberHeat saves the day. Because I work from home and also blog, I spend a lot of time in my office on the computer. And by office, I mean a designated space in the "formal" living room. It's a big, airy room and there's plenty of space for my desk, so it works out well. Unfortunately, that designated desk space is right in front of a giant window, which means it's also the coldest spot in the room. I use the UberHeat every day now while I'm at the computer, and it's made the winter so much more bearable. I'm finally comfortable, no longer have freezing fingers and toes, and can shed a few layers while I work.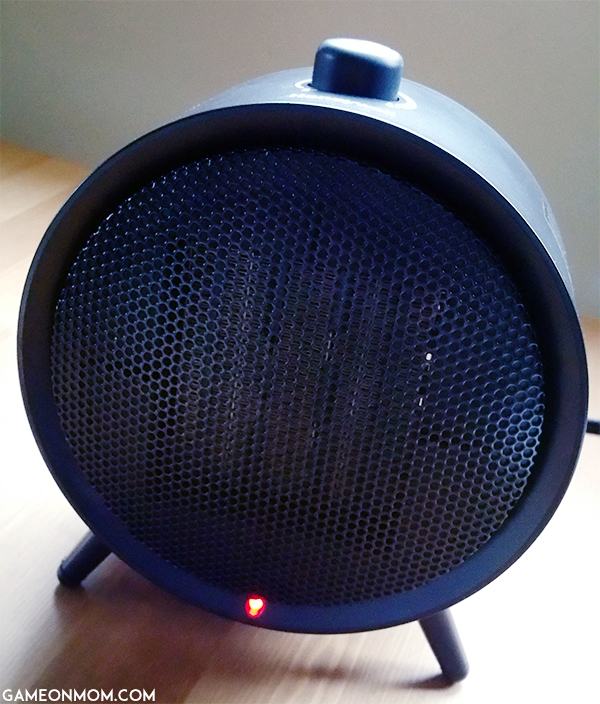 Aside from the fact it makes my days more comfortable, my favorite feature about the UberHeat is its design. Most space heaters you'll find in stores aren't exactly pretty. After all, heaters are meant to be functional, and looks come second (if at all). Honeywell disrupted the status quo with the UberHeat – it's actually really cute, and I haven't seen another space heater like it. The design is modern and unassuming, a sleek round shape with minimal buttons and gadgets. It comes in both black and white, both of which I love. Honestly, I would recommend this heater no matter how it looked (it works so well), but I'm thrilled that I can also recommend it based on aesthetics. It's a job well done all around!
If you're sitting at your desk right now, wishing your cozy socks could keep your toes even warmer, do yourself a favor and order one of these. You'll be glad you did.  To learn more about the Honeywell UberHeat Ceramic Heater, visit HoneywellPluggedIn.com.