Teletubbies Snowball DVD & Lullaby Laa-Laa Doll Giveaway!
Surprise:  Teletubbies are back!  If you missed those rascals, you'll be happy to learn you can find them in an updated series featuring new elements like the Tubby Phone and Touch-Screen Tummies.  I can't believe that it's been almost 20 years since Teletubbies took the world by storm, and I bet a lot of you were fans back then.  Heck, even I had a Po doll, and I was long past their target age.
Now you can introduce your own little cuties to the wonders of Teletubby land with a brand new DVD that was just released by DHX Media on December 13th.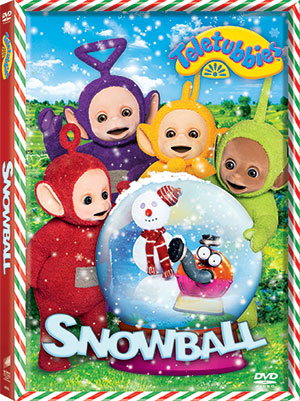 About the DVD
Teletubbies:  Snowball.  It's a cold day in Teletubbyland, and snow falls on the Teletubbies!  Join Tinky Winky, Dipsy, Laa-Laa, and Po as they find big snowballs, dance with a snowman, and watch children make a caterpillar out of snow.  The DVD contains six new episodes, including 'Snowball', along with two special bonus features.
Bonus Features

Sing-Along with the Teletubbies: "We Wish You a Merry Christmas"
Behind the Scenes Featurette for Grown Ups
Giveaway!
Courtesy of Sony Pictures Home Entertainment, you have a chance to win the just-released DVD and a super cute Lullaby Laa-Laa doll!  Just enter via the Giveaway Tools form below.  Open to US residents who are 18 or older.  Ends 1/3/17 at 11:59 PM ET.  Good luck!