Pistachio-Crusted Chicken Breasts Recipe Featuring Wonderful Pistachios
Fall is coming to a close, which means we are still dealing with busy school days and evenings hectic with after-school activities, but now we also have the chaos of the holidays.  By the time we're ready to settle in for dinner, it feels like the day was twice as long (not helped by the fact that it gets dark so early now).
Basically, what I'm trying to say is my family is busy and tired, and this makes it really easy to fall into a food rut.  I love trying new meals, but sometimes the thought of tracking down a new recipe (that the whole family will like) and buying a bunch of necessary ingredients seems too overwhelming. This, of course, leads to some meals getting frequent rotation.

Wonderful Pistachios recently made my life easier by reminding me that pistachios are more than just a delicious snack; they're also a great ingredient to spruce up many of your favorite dishes.
Before I share some of those yummy ideas, I do want to point out that pistachios are incredibly good for you. Whether you snack on them straight from the bag or use them as an ingredient in a larger dish, they offer many health benefits inside a tiny little package.
Pistachios are nutrient-dense.  They're loaded with good-for-you things like protein, fiber, beneficial fats, potassium, magnesium, and vitamin K (to name a few).  For starters, this means pistachios are perfect for replenishing energy and protein after exercising. They're also hearth healthy, increasing antioxidants and lowering lipids and lipoproteins in the blood (which are risk factors for heart disease). If you're trying to manage your weight, pistachios are a great choice: pistachios have more nuts per serving than any other snack nut (49 nuts contain just 160 calories). For those managing blood sugar, pistachios can support healthy blood glucose.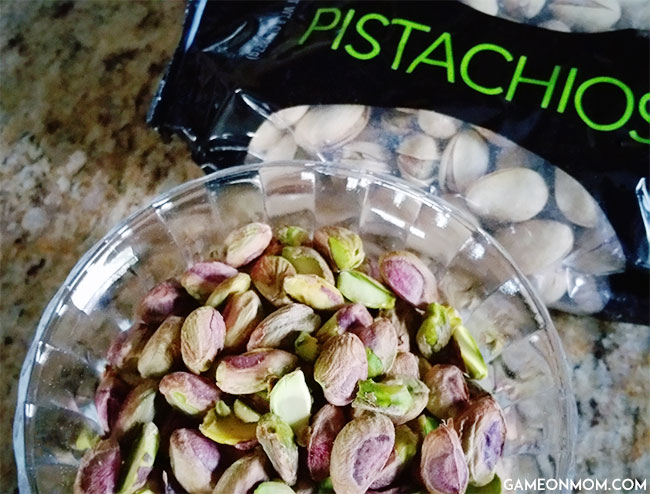 As you can see, they're good for you! Luckily they're delicious, too. It's a win-win situation.
Wonderful Pistachios are available in several different flavors, with a variety of salt-level options, a sweet chili flavor, and shelled or unshelled options.  Personally, I love them straight out of the bag. They're one of my favorite nuts and we snack on them a lot. I'm kind of embarrassed to admit that I hadn't given them much thought outside of an easy solo snack, or as part of trail mix, but there are a million things you can do with them.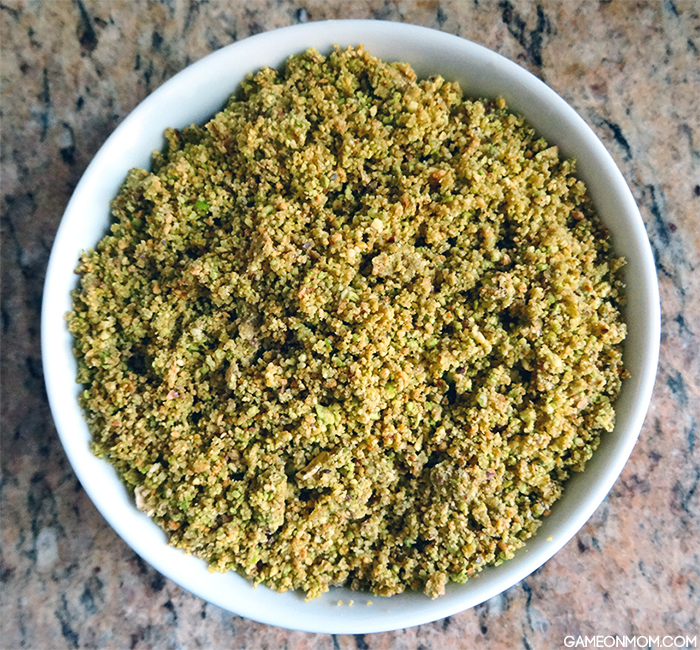 For example, you can use them to bump a recipe to the next level, like homemade chicken tenders or baked chicken breasts.  These standards are very kid-friendly, but I've been looking for ways to make them more nutritious.  I recently made pistachio-crusted chicken breasts, and my son went wild for them!  Here are the details: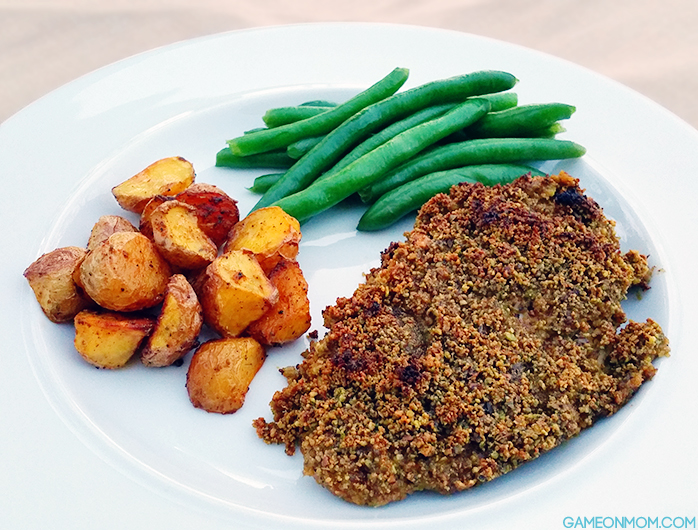 Pistachio-Crusted Chicken Breasts
Ingredients
½ tsp pepper
1 tsp sea salt
1 tsp cumin
1 tsp coriander
2 tsp oregano
¼ tsp cayenne
3 cloves garlic
¼ cup sesame seeds
2 cups pistachios
2 tbsp olive oil
¾ cup greek yogurt
4 boneless, skinless chicken breasts
Instructions
Preheat oven to 450 degrees.
Combine garlic, sesame seeds, pistachios, and olive oil in a food processor and pulse until crumbly. Transfer mixture to shallow bowl.
Lightly coat each chicken breast in yogurt.
Dredge each breast through pistachio mixture to thoroughly coat.
Transfer chicken to a baking sheet and cook for 20-25 minutes.
The pistachios added such a unique flavor to the breading, which was a great change from the basic recipe we've made so many times before. With some veggies on the side, it was a perfect meal. Pistachios would also be a great addition to other meals; I can see them adding a fun crunch to salads and more flavor to entrees. It's worth noting that pistachios aren't just a savory ingredient; they're also perfect in many dessert dishes, too.
Realizing that I could cook with pistachios gave me a much-needed boost this past fall. I've already expanded my dinner menus and look forward to trying out some other new recipes with these yummy little nuts. If you'd like to learn more about Wonderful Pistachios varieties and find out where you can purchase them near you, visit GetCrackin.com.