PEANUTS Holiday Prize Pack Giveaway!
How many renditions of "Jingle Bell Rock," "Santa Claus Is Coming to Town", and Vince Guaraldi's famous "Linus & Lucy" have you heard so far this month?  Never enough in my opinion!  Yes, we're officially into the holiday season—and that means it's time for a giveaway full of fun Peanuts stocking stuffers. (Well, you might need a king-size stocking for a couple of these!)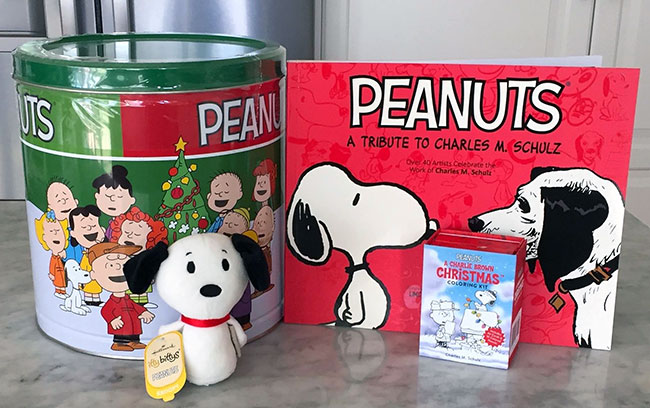 • Sure to be popular with your kids: Munch your way through the holidays, then savor the memories all year long with a collectible Peanuts Popcorn Tin filled with three different flavors (buttered, caramel, and white cheddar) of popcorn, of course!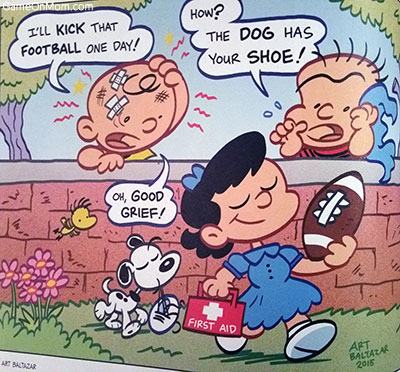 • Celebrate the legacy of Charles Schulz through the eyes of some of the world's world's best-known names in comics, children's books, comic strips, cartoons, and webcomics, including Matt Groening of The Simpsons and Raina Telgemeier (Smile). The book is called Peanuts: A Tribute to Charles M. Schulz from Boom! Studios.
• Celebrate the beloved holiday classic with a Charlie Brown Christmas Coloring Kit—the perfect companion to the Great Pumpkin coloring kit we gave away earlier this year. This portable coloring kit includes 10 colored pencils and 40 illustrated cards connected by an accordion fold, featuring text on alternating cards so the story can be read as you bring this timeless favorite to vibrant life. Once complete, you can display or share your art the whole season through.
• Finally, the most adorable Snoopy you've ever seen: A Snoopy Itty Bitty from Hallmark. This incredibly soft and tiny Snoopy plush truly is the stocking stuffer every Peanuts fan hopes to find this season.
Enter to win via the Giveaway Tools form below.  Open to US residents who are 18 and older.  Ends 12/20/16 at 10:00 AM ET.  Good luck!