K'NEX Infinite Journey Roller Coaster Giveaway
Last year, my daughter got the K'NEX Mighty Makers Fun on the Ferris Wheel Set, which we assembled together and have been happily playing with since.  My son was part of the fun, but I guess since the set is kind of pink, he knew that it really belonged to his sister, and he was a tiny bit jealous.  Well, his year was just made because he's now the proud owner of the K'NEX Infinite Journey Roller Coaster Building Set!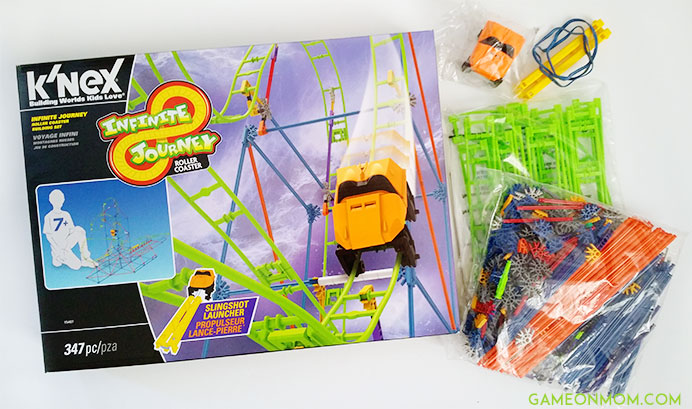 The Infinite Journey Roller Coaster Set comes with 347 colorful pieces, including a car, a launcher, and enough parts to make a track that's more than 13 feet.  It's certainly large, but let me tell you that when a child puts time and effort into building 13 feet of a roller coaster, he feels like a very accomplished little boy.  There's a sense of pride there that you just don't get from winning at a video game.
Follow the included instructions or experiment with your own configurations.  Once it's all put together, you propel the car with a slingshot style launcher.  There are no batteries required here because it's a totally interactive experience.  Motorized sets are fun, but I have to admit that I really prefer this manual situation a lot better.  My son is challenged as he figures out how to propel the car so it makes it all the way through the track, and my kids love taking turns trying to outdo each other.
Like other K'NEX building sets, this is more than just a fun afternoon.  Both building and playing with this set stimulates your child's imagination and curiosity while encouraging an understanding of STEAM concepts.  They'll also be clicking their ways toward better spatial awareness, problem-solving, and fine motor skills.  There's nothing better than an engaging toy that helps your child grow.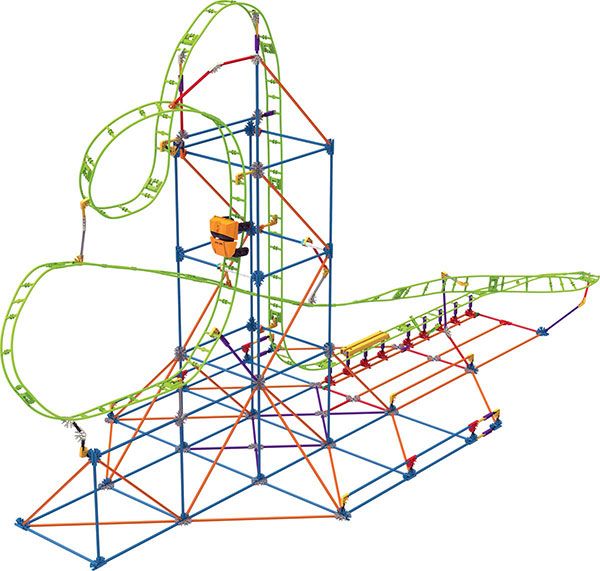 Something else I love about K'NEX is that they're the only construction toy company committed to manufacturing in the United States.  All of the rods and connectors in this set were made right here in the USA, Pennsylvania to be exact.  The car and launcher are, however, made in China, making this 99% US made, which is still a lot better than most toys I come across.
The K'NEX Infinite Journey Roller Coaster Building Set is recommended for kids 7 and up, and although the color-coded instructions are easy to follow, I think some 7 year olds are going to need help putting the track together.  That's fine by me though, because I love constructing K'NEX sets with my kids.  It's like working together to build a big 3D puzzle that we get to play with when it's done.  We're having fun and making memories!
You can pair the Infinite Journey Coaster with the K'NEX Clockwork Coaster and Revolution Ferris Wheel to create your own miniature theme park!  That's our ultimate goal, but for now, my son keeps his coaster next to his sister's ferris wheel, and watching them play together is just wonderful.
K'NEX is generously offering Game On Mom readers a chance to win an Infinite Journey Roller Coaster Set!  Giveaway is open to US residents who are 18 and older.  Ends 12/28/16.  Good luck!