Rethink Sweet with this Gingerbread Cookie Recipe from the Cake Boss
I'll be honest: I have a lot of food weaknesses. I'm pretty good at keeping everything under control, but the one thing that has a stronger hold on me than others is sugar. If I see a "sweet" – a cake, pie, cookie, anything – I'm drawn like a moth to a flame. This is a real problem and quite a paradox, because I also hate sugar. It's horrible for you, and basically everything on grocery store shelves and restaurant menus is loaded with way too much unnecessary sugar. Being a cake lover and a sugar hater is a really difficult way to live, but there's hope.
You've probably heard of Buddy Valastro, better known as the Cake Boss. We've spent many hours watching his crew build amazing cakes on his TLC show, so I was really excited to find out that Buddy wanted to share some of his new low-calorie holiday recipes. They're perfect for families who want to limit all those added sugars in their diet without sacrificing the delicious cakes and sweets that make frequent appearances during the holidays.
We visited the Cake Boss Cake Factory and filming studio in Jersey City, where we took a fun tour and took part in a hands-on tutorial from Buddy himself.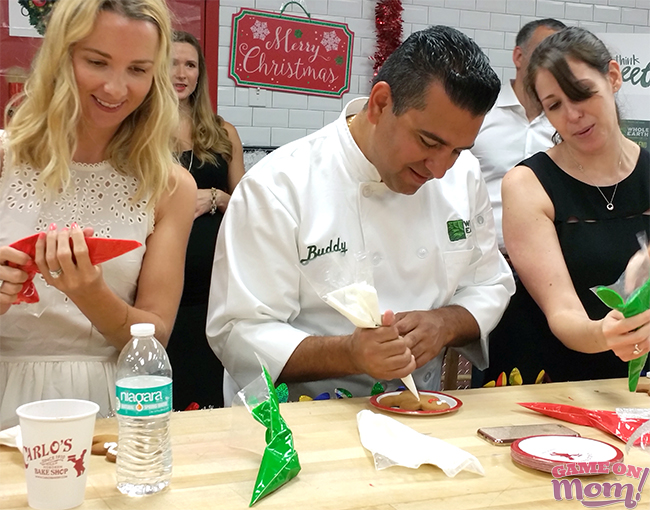 In order to create delicious desserts while still adhering to new FDA guidelines to significantly reduce our sugar intake, Buddy has partnered with Whole Earth Sweetener Company. Together they want to Rethink Sweet and help you find healthier ways to satisfy your sweet tooth. Buddy recently said:
"As a father of four, I'm always looking for ways to reduce the amount of added sugar that my family consumes, since there's no way we can cut out dessert! Whole Earth Sweetener Co. products are a game changer for my family, and for all the parents trying to make lifestyle choices for themselves and their children, without sacrificing the foods they love."
Sounds like Buddy and I are on the same page!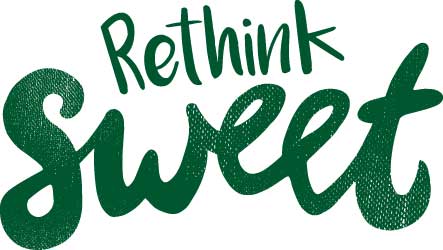 Prior to this event with Buddy, I had never been a big proponent of artificial sweeteners, and I still think that cutting back on sweeteners and sugar altogether is the best route, but sometimes you can't work around it. I'm happy to know that Whole Earth provides sugar alternatives that are better than others on the market; Whole Earth uses ingredients that are non-GMO, sourced from nature, gluten free, and produced without bioengineering. They offer a variety of sweetener options, some featuring sugar and others without. Their lineup includes:
Nature Sweet 0 Calorie Sweetener – a zero calorie blend of stevia and monk fruit extract
Baking Blend – made with raw sugar and organic stevia; bakes and browns like sugar and sweetens like 1 cup of sugar
Whole Earth Sweetener Honey 50 – organic honey and stevia blend; sweetens like 1 tbsp. of traditional honey
Whole Earth Sweetener Agave 50 – blend of organic blue agave and organic sweetener; sweetens like 1 tbsp. of traditional agave
Turbinado Raw Cane 50 – a blend of raw cane sugar and organic stevia in the form of golden brown crystals; sweetens like 1 tsp. of traditional turbinado sugar
Monk Fruit Juice Concentrate – monk fruit is a small melon grown on steep mountains, traditionally harvested by Buddhist monks; it's a zero calorie sweetener, and 1 squeeze sweetens like 1 tsp. of sugar
As you can see, no matter what sugar and sweetening needs you have, Whole Earth has something that will be perfect for your recipe.
Speaking of recipes, Buddy Valastro shared a new recipe for gingerbread cookies that we couldn't wait to try. This version uses Whole Earth's Agave 50 and Baking Blend sweeteners.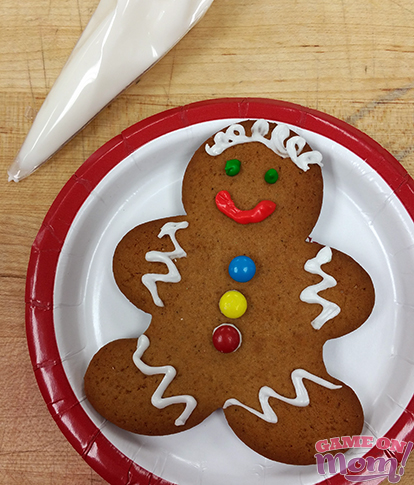 Gingerbread Cookies
Ingredients
3-1/2 cups all-purpose flour
1-1/4 teaspoon ground cinnamon
1 teaspoon baking soda
1 teaspoon ground cloves
1 teaspoon ground ginger
¼ teaspoon kosher salt
⅔ cup unsalted butter, softened
½ cup plus 2 tablespoons Whole Earth Sweetener Agave 50
6 tablespoons Whole Earth Sweetener Baking Blend
¼ cup nonfat milk
1 teaspoon vanilla extract
Instructions
Sift dry ingredients; set aside
Beat butter and Whole Earth Sweetener products in large bowl of mixer until well combined. Stir in dry ingredients alternating with milk and vanilla, beginning and ending with dry ingredients; mix well after each addition. Scrape side of bowl occasionally.
Refrigerate dough at least 2 hours before using.
Preheat oven to 400°F.
Roll dough on lightly floured surface to ¼-inch thickness. Cut into desired shapes. Reroll scraps only once.
Place cookies on parchment paper-lined baking sheets. Bake 9 to 11 minutes or until medium golden brown in color. Remove from oven to wire racks. Let cool 2 minutes. Remove cookies from baking sheet and cool completely.
These cookies had all the flavor of traditional gingerbread cookies with fewer calories and much less sugar. Gingerbread cookies are always a great choice when making desserts during the holidays, so I like knowing there's an option for anyone looking to cut back on sugar.
There are several other recipes from Buddy at the Whole Earth website, so make sure to check those out and let us know if you try them. You can find those and more information about Whole Earth products at WholeEarthSweetener.com.