Recipe: Pumpkin Hummus Made with the Oster Pro 1200 Plus Food Processor
Sitting way in the back and at the bottom of one of my kitchen cabinets, you'll find a food processor.  (At least I think that's where it is. It's been so long since I've used it, it's entirely possible I've moved it and forgotten doing so.)  When I first got it, I had grand visions of all the amazing food creations I'd be able to whip up for my family now that I finally had the fancy appliance I'd been wanting for years.  It was a wonderful idea, but the reality has turned out to be a bit different.  Don't get me wrong–it's a great machine that works well and has a bunch of accessories that allow me to pretty much do anything I want with it.  And that's kind of the problem.  There are a lot of parts, and using them and cleaning them can take up a lot of time that I don't really have to spare.  It's also just too big for most of the jobs I want to do.  Solution?  My shiny, new Oster Pro 1200 Plus Food Processor.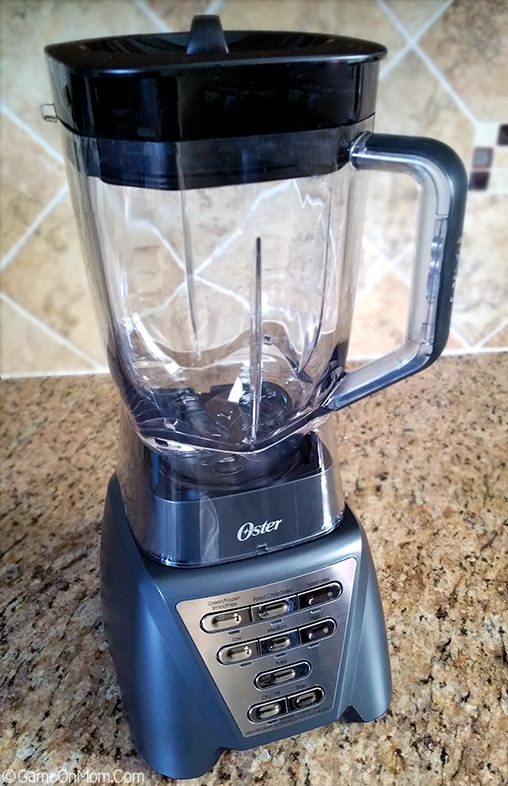 Isn't she lovely?  The sleek design and small footprint make her a great fit for any kitchen, and she's just as impressive under the hood.
Power Boosted.  Starts with 1200 power watts and then blends continuously at 900 watts.
All Metal Drive.  Durable metal-to-metal connection allows you to blend up to 10,000 smoothies.
Crush Pro & Blade Assembly.  6-point stainless steel design pulverizes and chops with precision.
Dual Direction Blade Technology.  Automatically kicks into reverse to make jar jam ups a thing of the past.
Smart Settings and 7 Speeds.  Pre-programmed settings take the guesswork out of blending with easy, one-touch controls.
8-Cup BPA-free Tritan Jar.  Dishwasher-safe and impact and temperature resistant.
5-Cup Food Processor Bowl.  Includes an s-blade and slicing/shredding disk.  Slices, chops, and shreds to make food prep a breeze.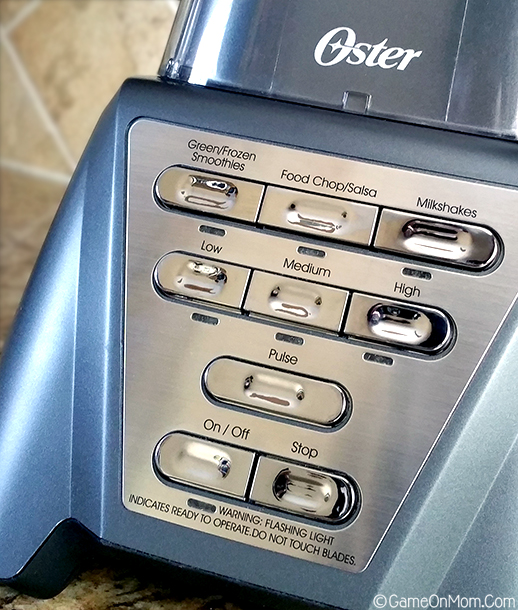 My daughter saw a blender and immediately asked for a smoothie, but as you know, I was dying to try out the food processor, so I made this Pumpkin Hummus recipe first.  (And I was all out of frozen berries.)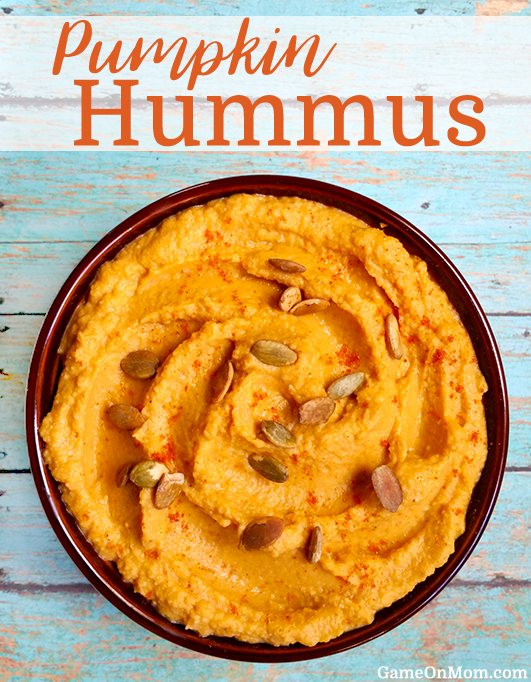 Pumpkin Hummus
Ingredients
1 cup dried chickpeas (aka garbanzo beans), rinsed and soaked overnight
1 15 oz. can pure pumpkin
2 tbsp tahini
2 cloves garlic
1 tbsp olive oil
Juice of one lemon
1 tsp cumin
1 tsp coriander
¼ tsp cayenne (optional)
½ tsp salt
1 tsp baking soda
Instructions
Rinse the chickpeas thoroughly and let them soak in a bowl overnight.
Drain and rinse the chickpeas and put them in a pot. Cover with water and add the baking soda. Boil for 1-1/2 hours or until very soft. Timing can vary based on the type of chickpeas you use, so I suggest testing every 30 minutes or so. Once soft, drain them and allow them to cool. Reserve some of the cooking water for later.
Place chickpeas in food processor and blend until smooth.
Add remaining ingredients and blend until smooth again. If needed, add reserved cooking water to achieve the desired consistency.
Transfer to a serving dish, garnish with a bit of cayenne and some pumpkin seeds, and enjoy!
If soaking and boiling the chickpeas is too much of a hassle or you're pressed for time, then you could always go with canned instead of dried.  It will have some impact on the flavor and the nutrition, but it'll do in a pinch.  Either way, this is a fun fall twist on a healthy dip, and if you like pumpkin, I'll promise you'll enjoy it!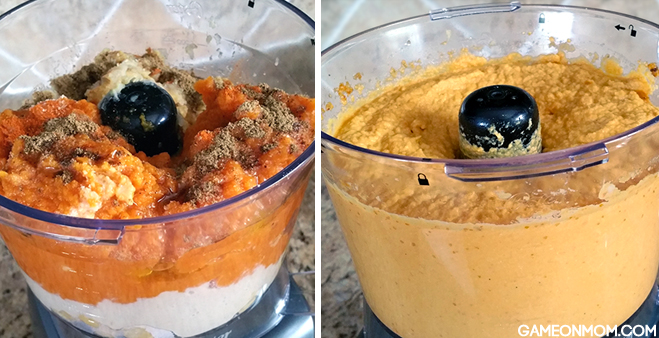 Not only is it delicious, but it's super easy to make–even when using the dried chickpeas.  Of course, having a perfectly-sized, easy-to-clean food processor doesn't hurt.  With the help of the Food Chop/Salsa and the Medium speed buttons, I had a perfectly smooth hummus in just a few minutes.  The power boost is probably my favorite feature though.  That little extra oomph doesn't just get things started; it keeps things moving for the entire process.
Right now, you can save on any Oster blender $39 or more at Target with this $10 off coupon!  Oster will be updating the Target Cartwheel app with other promotions throughout the holiday season, so make sure you have that downloaded so you don't miss any good deals.
I received this product for free from Moms Meet (momsmeet.com), May Media Group LLC, who received it directly from the manufacturer. As a Moms Meet blogger, I agreed to use this product and post my honest opinion on my blog. The opinions posted are my own.