Not-So-Scary Monster Books for Halloween & Beyond + Giveaway
Sterling Publishing has provided books for review.  All opinions are my own.
I have to admit that reading books about monsters to my students and children was something I never did before, but I am glad I did! When given the opportunity to read 4 awesome books about monsters that also included great lessons for learning, I was thrilled to incorporate these both at home and in my preschool during the month of October. Yes, you've read that right, monsters can be very educational!
The Color Monster: A Pop-Up Book of Feelings by Anna Llenas
The Color Monster was my daughter's first choice. I am not sure if it was the pop-up design, pull tabs, or the fact that she is a fan of the movie "Inside Out" and was already familiar with the feelings and colors described in the book. We decided to read it at bedtime, because although these books do contain monsters, but they are so relate-able that they are not scary at all. The Color Monster is a pop-up book with some really eye-catching details. Not only does it illustrate common feelings such as happiness, sadness and calm, it relates them to colors that we generally associate these feelings with. The illustrations are bright and colorful and there is a three dimensional pop-up or pull tab on every page! My children couldn't wait to turn the pages and see what pop-up would be next. My personal favorite, pictured above is the blue page discussing the emotion sadness. The page comes alive and it looks as if the clouds are raining. This book is a great learning tool for any parent or preschool teacher to use to encourage children to discuss their feelings.
Dining with … Monsters by Agnese Baruzzi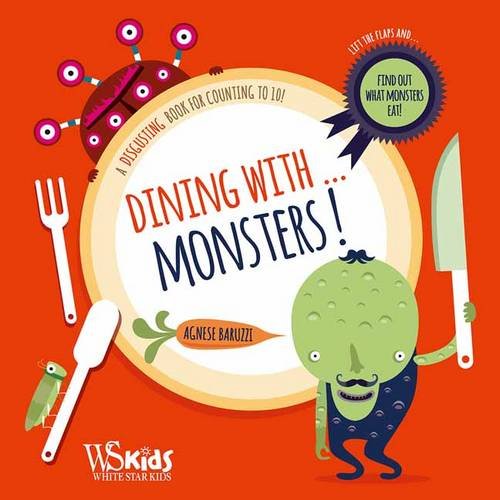 Have a hungry monster in your house? Maybe he would like to eat 1 spider or gobble up 5 porcupines! Dining with…Monsters! incorporates counting from 1-10 and rhyming. This book uses bright illustrations along with simple rhyming words that really keep the young children engaged and listening. It was a hit with my preschool class–they even requested an encore read!  During our second read aloud, some of the students were able to help me finish reading the pages. The overall quality of the book was fantastic, and the fold out pages were easy to maneuver even for the tiniest of hands!
Mind Your Monsters by Catherine Bailey, illustrated by Oriol Vidal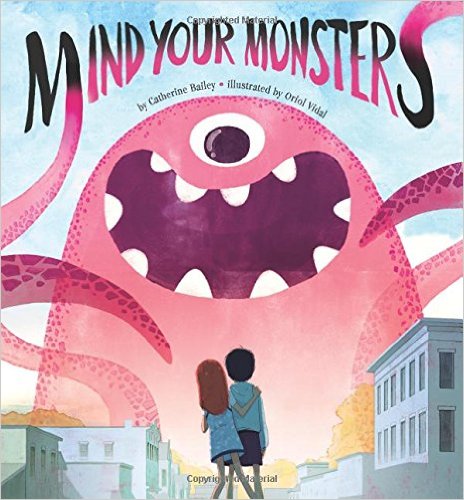 Let's face it, if you have children you know that teaching them proper manners such as please and thank you can be a MONSTER of a job! Not anymore! Mind Your Monsters is a great book that shows what happens when monsters, vampires, zombies, and werewolves invade Wally's quiet town. The loud, clumsy monsters make a huge mess from knocking down lampposts to chasing the mail carriers. The monsters continue to destroy Wally's town until he says the magic word "Please". The not so scary book has some colorful illustrations, great examples of people and monsters using good manners, and most importantly, a cheerful ending. Using manners helped bring the townspeople and the monsters together, and they eventually had a lot of fun!
Monster Trouble! by Lane Fredrickson, illustrated by Michael Robertson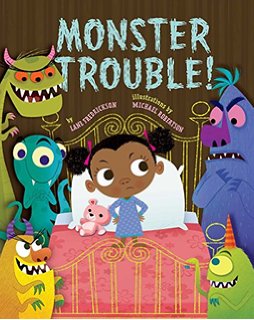 Have a child afraid of monsters at bedtime? Monster Trouble! will let your child in on a little secret, monsters HATE kisses! Winifred Schnitzel is not afraid of anything, not even monsters invading her room at bedtime, but she does get upset when they do interfere with her sleep! Winifred enjoys her sleep and has grown tired of monsters sneaking into her room every night. In Monster Trouble!, she tries everything to make them stop from setting up traps and leaving out stinky cheese to make the monsters sneeze! Monster Trouble! uses rhyming words, delightful illustrations, and a sweet surprise ending that will encourage any child to overcome their fears about monsters and bedtime!
Each of these titles is perfect for Halloween, but kids are also sure to enjoy (and learn from) them all year long.  You can find these and other fun books from Sterling Kids at Amazon and Barnes & Noble. Sterling Publishing is also giving you a chance to win The Color Monster: A Pop-Up Book of Feelings right now!  Giveaway is open to US residents who are 18 and older.  Ends 10/18/15.
Good luck, and have a happy (but not too scary) Halloween!