Peanuts are Going Back to School–with You!
Thanks to Hanna Andersson for providing a complimentary sample for review.  All opinions are 100% my own.
Have you started your back-to-school shopping yet? We have!
I have a lot of fun watching the kids pick out the lunch bags and backpacks they love most, and this year my son has the most adorable Peanuts backpack I've ever seen.
You may already be familiar with the Hanna Andersson brand, but if not, you should check it out immediately. Hanna Andersson has clothing and accessories for everyone in the family, as well as some home goods. But today we're focusing on their Backpack Shop, which is filled with super cute, super durable kids backpacks.
As you know, we're Peanuts-crazy around here, so we were so excited to learn that some of Hanna Andersson's newest kids backpacks are Peanuts-themed! This is the part where I maybe did a Snoopy happy dance.
The bags are available in two prints:
First, a red and white striped bag with blue accents, featuring Snoopy and Woodstock: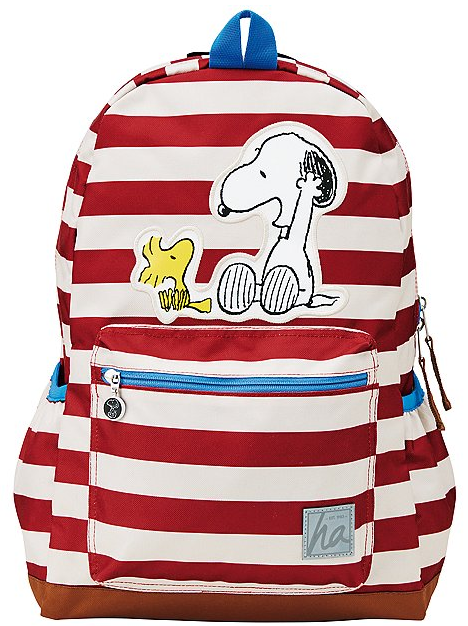 And second, a blue bag with red accents, covered with all your favorite Peanuts characters: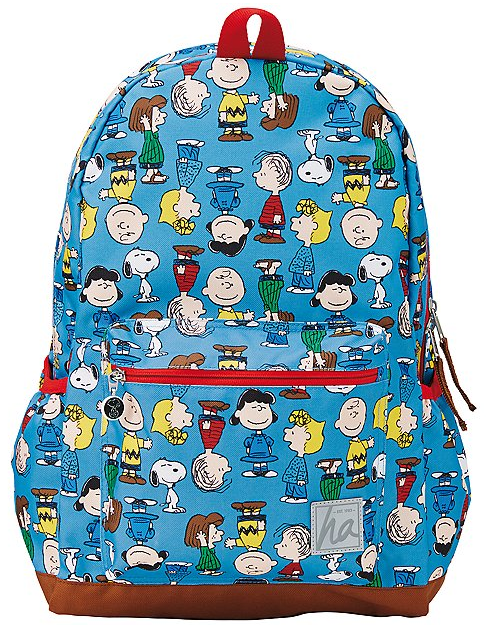 We have the blue bag, and it's even cuter in person. It's so cute, in fact…that I've been using it! I know, I know. When my son goes off to kindergarten, I'll make sure he has this pack on his back. But in the meantime, it's been getting some (gentle) use! I've carried it several different places, and I've gotten compliments everywhere I go. I even used it as my conference bag when I attended the BlogHer Conference. It's just the right size for me, and it fits my laptop perfectly. How could I resist?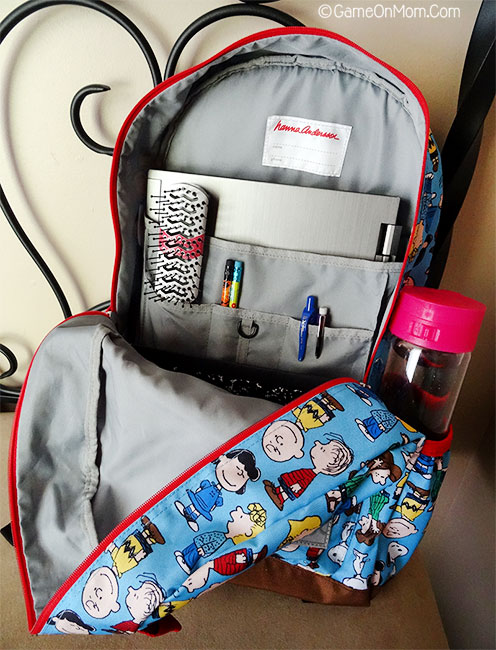 Since it is the right size for me, I'll admit it's slightly large for a kindergartener. The nicest thing about this bag, though, is the quality. Even if it's a bit large now, it's durable enough that my son will be able to use it for a long time. He'll grow into it, and it will be in great shape when he does.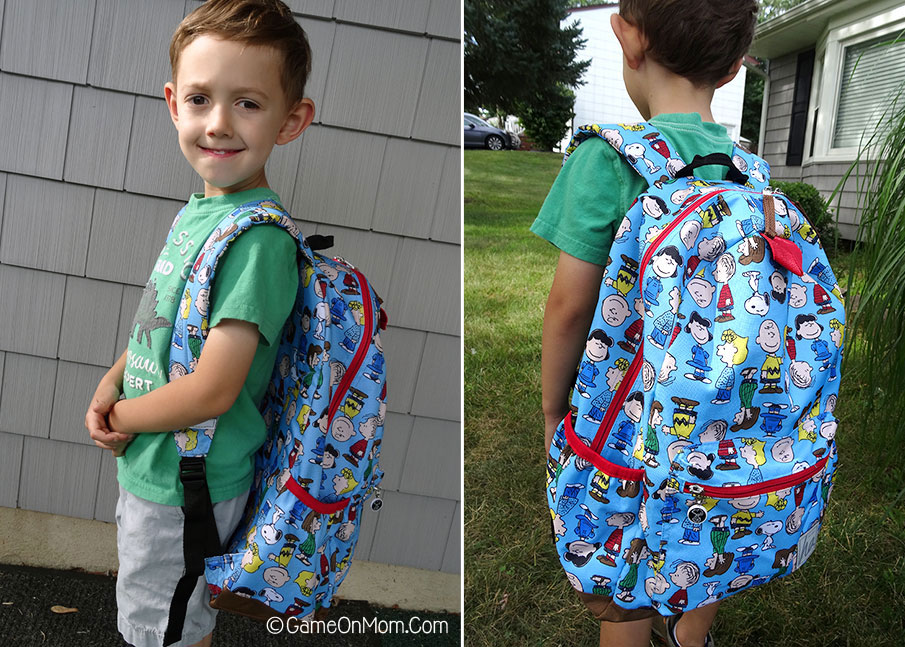 As for this heavy-duty bag's specs: it's made with 600 denier polyester and has sturdy double pull zippers. It comes with a front loop to which you can attach a lunch bag, a side pockets perfect for a water bottles or small umbrellas, and it has a built-in organizer. For safety, it's 360 degree reflective, and there is an interior name label to make sure your child can be reunited with the bag if they happen to misplace it at school. Best of all, it's stain and water resistant and can be easily spot cleaned.
If your kids are in need of a new backpack or lunch bag this school year, these Peanuts bags are my suggestion for you! The designs are adorable and gender-neutral, so they're perfect for anyone. Even moms.  🙂
To learn more about these Peanuts backpacks, make sure to check out the Hanna Andersson Backpack Shop. You can also stay up to date on all Hanna Andersson products by following the brand on Facebook, Twitter, and Instagram.