Maggie Bags Campus Tote at The Ultimate Green Store + $25 GC Giveaway!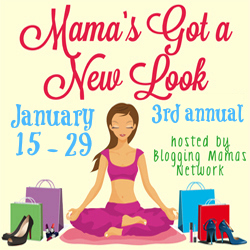 We just rang in 2015 and with a New Year comes the chance to develop a new YOU!
Welcome to the [3rd Annual] Mama's Got a New Look Giveaway Hop Event. A fabulous group of bloggers have come together to give all you special, deserving Mamas a chance at a New Look for the New Year so be sure to hop around to all the blogs participating at the bottom of this post.
***
If you're an eco-conscious consumer, there is a good chance you are already familiar with The Ultimate Green Store (TUGS), who is graciously sponsoring our addition to this fun event.

TUGS offers a wide variety of eco-friendly products for your home, your office, and your family.  With all of their natural, organic, recycled, and sustainable options, they're the ultimate destination for the green buyer.  At The Ultimate Green Store, you can rest assured that anything you purchase will be eco-friendly and fabulous, like the Recycled Seatbelt Campus Tote Bag from Maggie Bags that they recently sent me.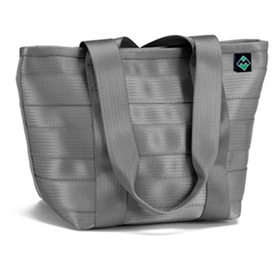 This is not my first experience with Maggie Bags; I fell in love with the concept after reading about it on another blog a few years ago and just had to have one.  Every year, enormous amounts of seat belt webbing go unused by auto makers because it's been rejected for minor issues, such as color variations.  Maggie Bags takes this unwanted but still useful material and creates stylish and practical handbags, totes, and accessories.
As you know, seat belt webbing is designed to protect you in the event of an accident, so the material is amazingly durable.  That's definitely a feature you want in a bag!  I've had my original bag for two years now; I've used it in all kinds of conditions, and it still looks new.  This sturdy bag can certainly take a beating (or ten).
Let's talk functionality.  The Campus Tote is a large shoulder bag that will hold a lot of stuff yet manages to never feel bulky.  (I've got everything from a Kindle to a penguin in mine, and there is still plenty of room for more.)  The pretty, purple-lined interior features three pockets:  a zippered pocket, a key pocket, and a cell phone pocket.  Four nickel-plated feet keep your bag from ever touching the dirty and potentially damaging ground.  The feet, combined with the flat bottom of the bag, keep the tote upright when you want to set it down somewhere.  No more tipped-over totes!  My favorite thing about this bag is that it zips closed at the top to protect your items from the elements or from falling out.  (I'm famous for dropping things.)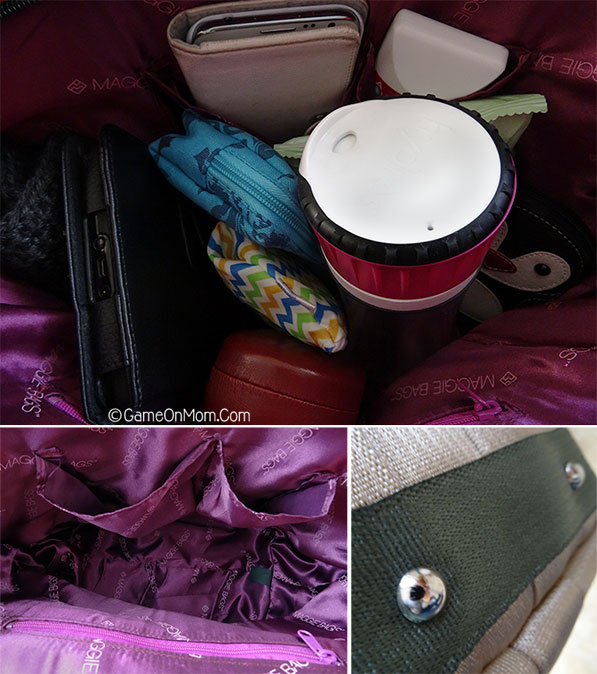 The Campus Tote is both functional and fashionable, and like all Maggie Bags, it also makes a great conversation piece.  When people see my bag for the first time, they are just fascinated by the idea and want to know everything about it.  Being a big supporter of all things green, I'm more than happy to oblige.  ☺
I hope to add more Maggie Bags to my collection soon; both the Cicily Tote and the Small Tote Handbag have caught my eye.  Which of the Maggie Bags do you like best?  All of the ones I've mentioned (and more) can be found at The Ultimate Green Store, along with a huge selection of fashion and beauty products made with your health and the health of the planet in mind.  You deserve a new look; let's make it eco-friendly too!
To help you get started building your new, "green" look for the new year, The Ultimate Green Store is generously offering Game On Mom readers a chance to win a $25 gift card.  Open to US residents who are 18 and older.  Ends 1/29/15 at 11:59 EST.  Good luck, and happy hopping!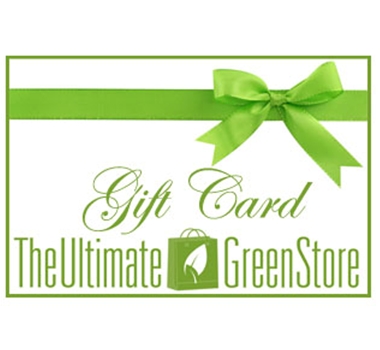 So Easy Being Green, Viva Veltoro, the Blogging Mamas Network, and the Mama's Got a New Look participating bloggers are not responsible for sponsors who do not fulfill prize obligations.