Blueberry Buttermilk Pancakes Recipe
July is National Blueberry Month, so I thought I'd squeeze in a recipe featuring the powerful superfruit before July is no more.  We eat blueberries frequently around here, but one of the easiest ways to get my kids to eat them is by adding them to their favorite breakfast food:  pancakes.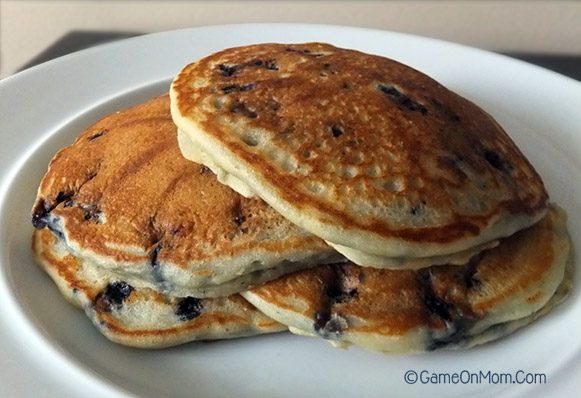 Light.  Fluffy.  Moist.  Delicious.  I'm making myself hungry just typing about it.  I make these at least once a week, and we're all happy to have them for breakfast, lunch, or dinner.  Deliciousness works any time of day.
The most important thing to remember when making any pancakes is not to overmix the batter.  Smooth batter is never your goal.  You want yours to be a bit lumpy, otherwise your pancakes will be tough instead of soft and spongy.
Recipe: Blueberry Buttermilk Pancakes
Ingredients
1½ cup flour
1 tsp baking powder
½ tsp baking soda
2 tbsp sugar
½ tsp salt
1½ cup buttermilk
2 eggs
3 tbsp vegetable oil
2 tsp vanilla
1 cup blueberries (fresh or frozen)
Instructions
Mix together the flour, baking powder, baking soda, sugar, and salt. Set aside.
In a large bowl, use an electric mixer to beat the eggs, buttermilk, and oil until lightly and fluffy and frothy.
Add dry ingredients to wet ingredients and mix with a wire wisk until combined. The batter should have little lumps. (Don't overmix or you'll have tough, flat pancakes.)
Gently fold in the blueberries. (Alternatively, you can sprinkle the blueberries onto the pancakes while cooking.)
Let the batter rest for about 10 minutes. During this time, you can start preheating your frying pan or griddle (375°) and greasing it with oil or butter.
Use a ladle or scoop to pour about ¼ cup of batter onto heated pan/griddle, making sure to leave a couple of inches in between each pancake.
Flip pancakes once bubbles form on top, about 2 or 3 minutes. Cook for an additional 1-2 minutes until bottom is golden brown.
Server warm with real maple syrup.
Definitely use some fresh blueberries if you can get your hands on some good ones while they're in season.  If not, frozen blueberries work just as well and still have all the health benefits.  If you mix frozen blueberries directly into the batter, there is a chance your pancakes might have a bluish-greenish tinge to them.  This is how I usually do it, however, and it doesn't bother me.  In fact, I think it's hardly noticeable.  They still look and taste yummy!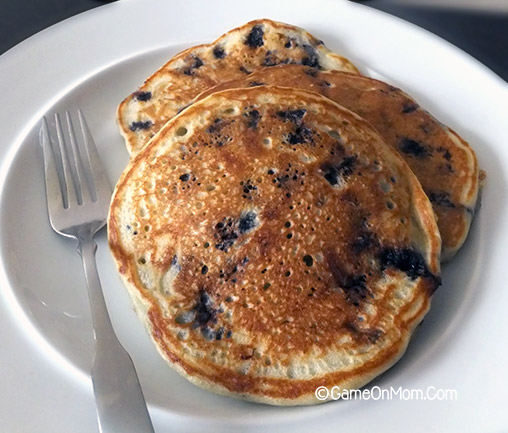 July might be coming to an end, but there is still time to celebrate your love for blueberries.  Check out Blueberry.org's list of blueberry festivals to see if there are any near you this summer.
What's your favorite way to eat blueberries?