Green Virgin Products Review & Giveaway
Have you ever heard of soap nuts?  I hadn't until recently, and my mind is still kind of blown.
Bear with me through this brief science lesson:  There is a genus of trees and shrubs called Sapindus, and these product a fruit called soap berries or soap nuts.  Why?  The pulp of the fruit contains saponins, which are used to make soap.  This type of all-natural soap has been used for thousands of years, and is now being used in some modern detergents and cosmetics.  (Science lesson courtesy of Wikipedia).
Green Virgin Products is one of the companies using soap nuts to create organic cleaning products.

Green Virgin products has a full line of items for you to check out, including laundry detergent, spray cleaners, and handcrafted bar soaps.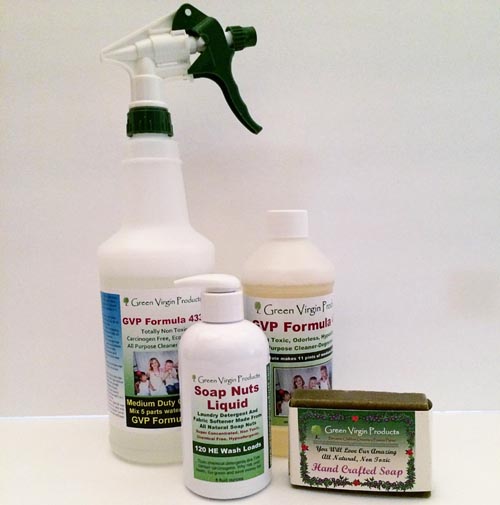 They sent me complimentary samples of items from their Soap Nuts Line to test drive recently, and I was surprised and pleased with the results.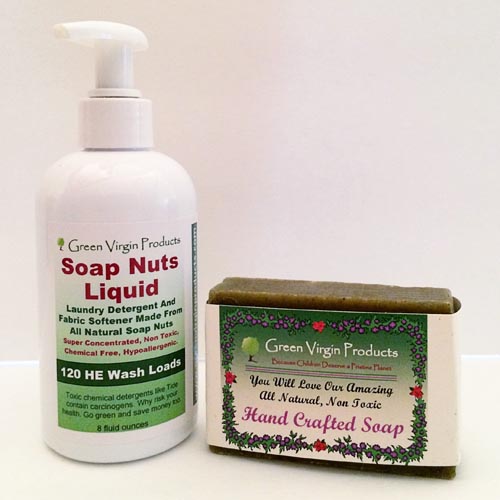 The Soap Nuts laundry detergent comes in both a liquid and solid form, but I tried the liquid version.  It's totally unscented and has no chemicals of any kind, and it's free from all the carcinogens found in regular detergents.   It's a great choice for anyone with allergies, who doesn't like perfumed detergents, or who just wants a safe alternative to the mainstream brands.  The detergent cleaned as well as the last bottle I bought at the grocery store, and it will give you 240 (yes, 240!) loads on a high-efficiency washer.  Also, I haven't tried this, but their website says it also doubles as an excellent window cleaner.
I was also able to try out one of their hand crafted bar soaps, and it was also great.  It lathers like crazy and comforted my dry skin.  This natural and vegan formula contains super moisturizing ingredients like extra virgin olive oil and shea butter, and it also contains Moringa leaf powder, which has healing properties that you'll appreciate if you suffer from eczema or psoriasis.  has It comes in unscented and peppermint versions; I used the unscented bar.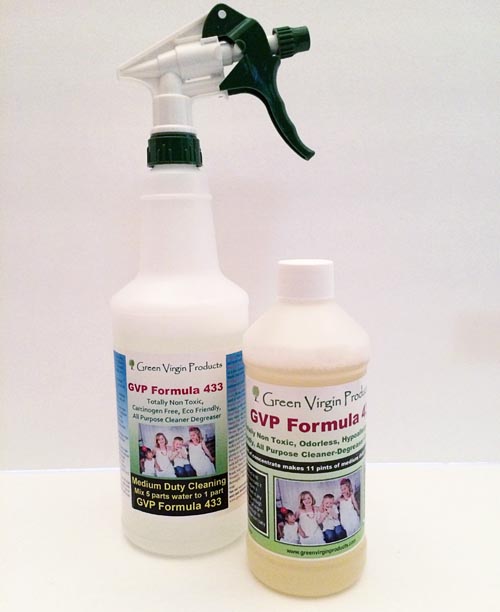 I also loved their GVP Formula 433 Totally Non-Toxic, All-Purpose Cleaner.  It comes as a concentrated liquid, and you get a spray bottle or a foaming pump bottle to create a diluted mix for your needs.  It contains natural oils and minerals, and is 100% unscented.  Even when diluted with a 10:1 ratio, it kills over 99% of e-Coli and salmonella bacteria.  This is a multi-purpose cleaner, and I think you could easily replace all of your other household cleaners with it.  It cleaned my counters and stovetop as well as chemical-laden products I've used in the past, and you don't have to worry about any dangerous chemicals being released into your home when you clean.  (Obviously that's a benefit no matter who you are, but homes with children and pets will especially benefit from the safe ingredients).
To learn more about all of the Green Virgin Products collection, check out GreenVirginProducts.com.  You can also sign up for their newsletter or purchase products directly from them on their site.  Don't forget to follow them on Facebook and Twitter too!
Green Virgin Products is generously offering Game On Mom readers the chance to win a prize pack including 8 oz. Soap Nuts Liquid, 4 oz. GVP Formula 433 All Purpose Cleaner, and Hand Crafted Natural Bar Soap!  Giveaway is open to residents of the US who are 18 and older.  Ends 5/17/14.  Good luck!
Thank you to Green Virgin Products for providing these products free of charge in exchange for an honest review.  All opinions expressed in this post are my own.