Get Paid for Giving Your Opinion!
Online surveys are a great way to earn some extra money in your free time.  All you need is a computer and you can get started  right now!  Companies use surveys to improve products and services and will give you great rewards for simply answering some questions.  You may find yourself taking paid online surveys about TV shows, music, electronics, politics, sports, advertisements, or even what you ate for breakfast.  You may even get a sneak peak at new products being developed.  Companies value your opinions, and will reward you for sharing them.  Payment per survey will vary, and on average a survey takes about 10-15 minutes to complete.  Depending on the company you are working with, you will be paid in cash or points that can be redeemed for cash, prizes, or gift cards.  Sometimes you will even receive free products to sample!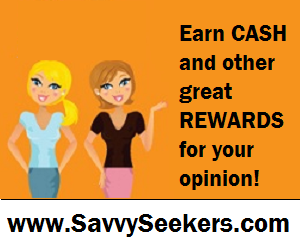 So how do you know which survey companies to join?  There are many survey companies out there and knowing which ones are best can be confusing.  SavvySeekers.com was founded by two professional women who have spent most of their careers working for the top market research companies.  Based on that experience, SavvySeekers shares their expertise on which online surveys are legitimate, how to get started, and reasonable earning potential.  The recommended survey companies never ask for membership fees, have posted privacy policies, and will keep your information confidential.  SavvySeekers is committed to providing you with reputable paid survey opportunities.
To maximize your survey earnings, you can sign up for several different survey companies and increase your chances of getting surveys.  Remember to respond to survey invitations quickly, as space usually fills up fast, and keep your profile up-to-date.  This will help ensure that you qualify for more surveys and receive more survey invitations that include your areas of interest.
Check out SavvySeekers.com and start earning rewards for your opinion today – participation is absolutely free!