Herbal Essences Naked Volume Review
This post is brought to you by Herbal Essences.
A few weeks ago, I introduced you to Herbal Essences' brand new line, Naked Volume.

Now that I've had a chance to use the products, I'm excited to tell you how much I like them!
In case you're not familiar with this new line, take a look at my first post, and check out this Herbal Essences video:
Herbal Essences graciously provided the Naked Volume Kit, which you can still order at Walmart.com for a great price!  The kit includes shampoo, conditioner, dry shampoo, and a "soufflé" (which is a styling foam, like mousse).
The first thing I want to point out is the scent, because I loved it.  It's clean and refreshing, a mix of white grapefruit and mint.  I love mint in my shampoo, but I know it sounds a bit funny if you've never smelled minty or herbal hair products.  Don't worry; the mint in Naked Volume is really subtle and blends well with the citrus.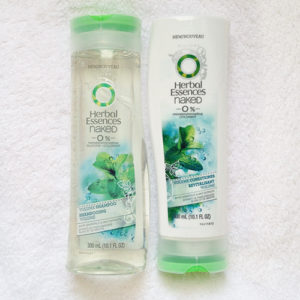 The Naked Volume line has no heavy residues, no dyes, and no parabens.  Unlike other natural shampoos I've used in the past, this one foams really well.   I know it's not that important, because clean is clean, but a good bubbly wash makes me feel better.  🙂
After conditioning, my hair doesn't feel heavy or weighed-down at all.  I apply the volumizing soufflé before blowdrying my hair, and I am happy with it.  Just a note:  like many mousses, this product dispenses rapidly and expands in your hand, so be conservative when you press the pump.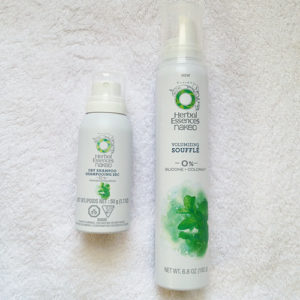 I've definitely noticed an increase in volume after blowdrying.  As I've mentioned in previous posts, my hair is really fine, but it ends up looking poofy and dull without the right products.  The soufflé tames frizz and adds a level of control, but it's lightweight and allows me to get a good boost at my roots that lasts all day.
My final step is adding the dry shampoo (my favorite!).  Dry shampoo is great for keeping your hair looking fresh and eliminating oil between washes, but it's also perfect for adding volume, texture, and hold on wash days.  If you have never used dry shampoo, you don't know what you're missing!  I've tried several different brands over the years, and this honestly ranks high with much more expensive brands.  It's not overly white and powdery like some, and the scent is refreshing rather than powdery and cloying.
Final verdict:  I really like this stuff.  I love the fact it's made without all those products that are bad for my hair, but it volumizes as well as anything else I've tried.  The fact that it's so affordable ($12.99 for the entire kit!) makes it that much better.  I recommend the Naked Volume line to anyone who would like some more va-va-voom in their hair!  (If volume isn't your problem, you might be interested to know there will also be a Naked Moisture and a Naked Shine line!).
Information and a Walmart gift card were provided by Herbal Essences.