Chicken Noodle Soup with Spinach Recipe – Vote & Win a $250 Visa GC!
This recipe is part of the Pennsylvania Dutch Noodles Tastes Like Home Fresh Start Sweepstakes.  Facebook fans can vote once per day from now until January 31st.  Each vote will enter you to win a $250 VISA gift card.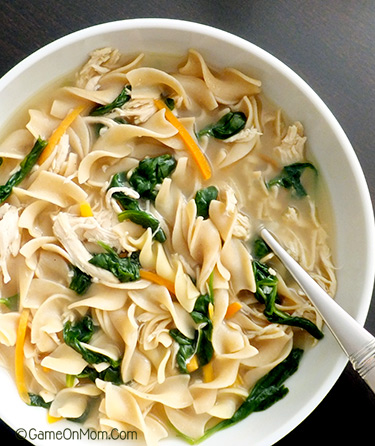 Growing up, some sort of pasta was almost always on the table at dinnertime, and if egg noodles were the feature of the night, you can bet they were Pennsylvania Dutch Noodles.  I honestly couldn't tell you why my grandmother chose that brand, but I can tell you that they were always delicious.  Now, my grandmother's meals were quite yummy,  but they were also artery-clogging and sodium-laden.  I don't want my kids to become accustomed to those kinds of foods the way that I did, and so I've adapted the recipes I grew up with to be healthier but just as tasty.
For this recipe, I used low-sodium broth and swapped celery for some nutrient-dense spinach.  Instead of regular egg noodles, I went with the Pennsylvania Dutch 100%  Whole Grain Noodles, which gives you more than twice the amount of fiber per serving.  If you know me at all, you know how I feel about my fiber!
Chicken Noodle Soup with Spinach
Ingredients
1 tbsp organic vegetable oil
3 garlic cloves, minced
8 cups organic, low­-sodium chicken broth
2 chicken breasts, cooked and shredded
1­5 oz. package organic baby spinach
1 cup julienned carrots
1­12 oz. package Pennsylvania Dutch 100% Whole Grain Wide Ribbon Noodles
¼ tsp freshly ground pepper
¼ tsp nutmeg
Kosher or sea salt, to taste
Instructions
Heat oil in a large saucepan over medium­-high heat. Add carrots and garlic. Cook for about 3 minutes, stirring continuously.
Add broth, pepper, and nutmeg. Bring to a boil.
Add noodles and cook, uncovered, for 5 minutes.
Add chicken and spinach. Let simmer for another 2 minutes.
This chicken noodle soup is easy to prepare and makes a great weeknight meal.  It's a little more effort than opening up a can, but it also tastes better and is much better for you.  (Those weird chicken chunks in canned soups scare me anyway.)  Have the leftovers (if there are any) for lunch the next day–it will be even more delicious!
As I mentioned above, if you vote for my Chicken Noodle Soup with Spinach recipe in the Pennsylvania Dutch Noodles Taste of Home Fresh Start Sweepstakes, and you could win a $250 VISA gift card!  Just follow this link, like Pennsylvania Dutch Noodles on Facebook, and click the "vote" button under the picture of my soup.  You can do this once per day until 1/31/14, and you'll receive an entry into the sweepstakes each time.  Of course, the more entries you have, the better your chance of winning will be!
Pennsylvania Dutch Noodles provided a gift card for us to purchase the supplies necessary to create this recipe.