Mini Carrot Bread Recipe & Mini Loaf Pan Giveaway
Good Cook recently sent me their Sweet Creations Mini Loaf Pan to try out, and it took me all of 5 seconds to decide what to do with it.  I usually like to make a carrot cake for Thanksgiving, but my Thanksgiving didn't really happen this year, so no carrot cake for me.  This seemed to be the perfect opportunity to whip up some easier-to-make but equally yummy-to-eat carrot bread.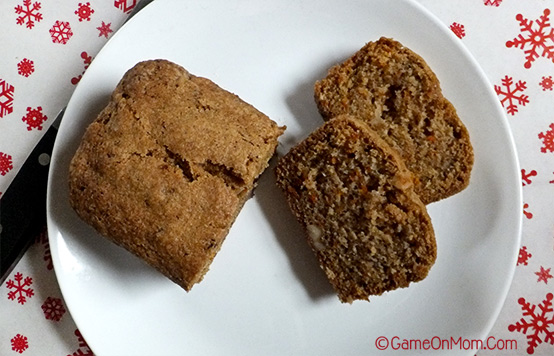 As much baking as I've done, this was my first experience using a mini loaf pan.  I love how it cuts down on baking time and leaves you with these adorable little loaves.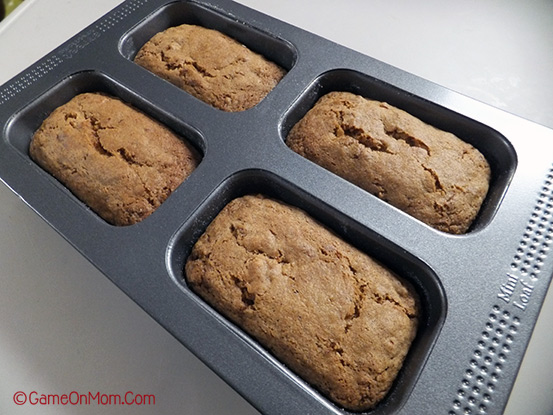 You know small things are always cuter and more fun!  Wrap them up in some festive parchment paper like the one I used in the background of that first picture, and these make great little gifts for co-workers or neighbors.  They're moist and have just the right blend of sweetness and spice.  If you like quick breads, you'll definitely want to try this one.  Plus, it's got carrots…so, it's like a health food.  Seriously.
Mini Carrot Bread Recipe
Author:
Melanie Scout https://www.gameonmom.com
Ingredients
1 cup carrots
1 cup sugar
2 eggs
¾ cup vegetable oil
1½ cups flour
1 tsp baking soda
1 tsp baking powder
1 tsp cinnamon
½ tsp nutmeg
¼ tsp salt
½ c chopped walnuts or pecans
Instructions
Preheat oven to 350 degrees, and grease a mini loaf pan.
Cream sugar, eggs, and oil.
Sift together the flour, baking soda, baking powder, cinnamon, nutmeg, and salt.
Add wet and dry ingredients, and mix in the carrots and nuts.
Bake for 25-30 minutes, or until your toothpick comes outclean.
In all honesty, I'm doing my best to avoid sugar and other evil things these days, but I've decided not to deprive my whole family of my holiday baking.  And if I have just one little bite, that wouldn't be so bad, would it?  Since there's less sugar, oil, and eggs, and there isn't any frosting on this, it's not nearly as evil as an actual carrot cake anyway.  Maybe I'll have two bites.
Want to try this great mini loaf pan or give one as a gift?  Get 25% off by using code SWEETLOAF at GoodCook.com!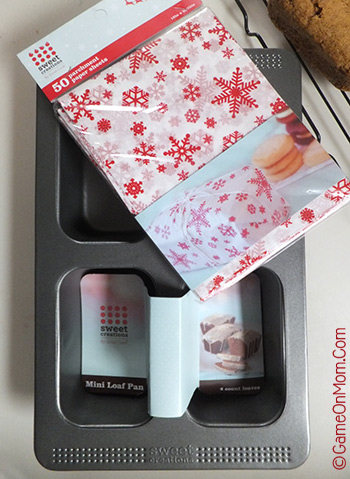 You can also enter here to win a Sweet Creations Nonstick Mini Loaf Pan and parchment!  Giveaway is open to US residents who are 18 and older.  Ends 12/22/13.   Please read the giveaway rules below the Rafflecopter.  Good luck!
a Rafflecopter giveaway

Giveaway Rules:

One prize per household for each Good Cook event. If someone wins on 2 or more blogs, they – or their family members – cannot win a second prize from another blog in the same event.

If a household has won a prize in a Good Cook event, they can't win again for 6 months.

If a household has won more than one prize in a previous Good Cook event, they can't win again for 12 months.

Good Cook will confirm that winners are eligible and will disqualify anyone who has won more than once.

Prizes ship from Good Cook and can take 8-10 weeks after the contest ends, unless otherwise stated. You must be 18 or older to win. US shipping addresses only.

Good Cook reserves the right to substitute a prize of equal value if sufficient inventory is not available.