Do you have an iPhone?  If so, you have to check out a really fun (free!) app called Snapverse.

Snapverse is an easy-to-use app for iOS that allows you to make 20-second videos, complete with a music background!   I think the fact we have the capability to whip out our phone and take a video of a special moment is pretty awesome, and I love apps that make it even easier and more creative.  Snapverse has a good selection of music, and they even have a special Holiday Music section.  Instead of (or in addition to) a traditional card, you could send a special video holiday greeting to your loved ones with hardly any work at all. I've been playing around with Snapverse today, and I can assure you it's really easy to use, even if you don't use apps and programs on your phone that often.  I downloaded the app and made this quick video in less than five minutes:
To get started, first you'll need to download the app from the iTunes store.  Once you've installed and you're ready to go, the app will ask you to sign up.  You can do this quickly with your Facebook information, or you can also sign up with your email address.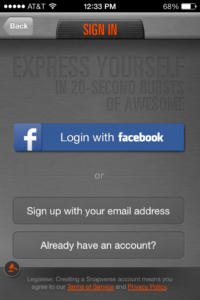 After you've created your account and have viewed the app demo, you can make a video!  The first step is to select a song.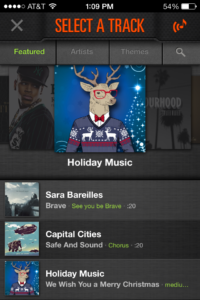 Since I was making a holiday-themed video, I went straight for the holiday music.  After you pick a song, you're ready to record.   When you've finished recording and making any changes you'd like to make, you can caption your video, select a privacy setting, and share it with friends!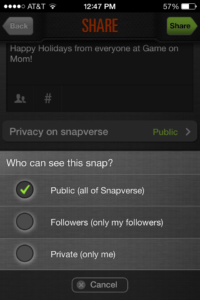 You can share your video on Facebook, Twitter, Tumblr, via email, or on your own website.  (Note: you can choose from three privacy settings, but if you want to share your video outside of Snapverse, you'll need to choose the Public setting).  I love that you can choose a "Private" option or one for only your followers, because some apps lack privacy choices. I really enjoyed playing with Snapverse, and I can't wait to make some more videos.  And I hope you're excited about making a Snapverse video, too, because we have a surprise for you! Our new friends at Snapverse are sponsoring a contest for Game on Mom readers!  All you have to do is create an easy, fun, holiday-themed Snapverse video and leave us a way to view it.  We'll look through all of them for the most fun and creative submission to award a $50 VISA gift card to the winner!  The winner will also be entered into a larger Snapverse contest to win a $500 VISA gift card!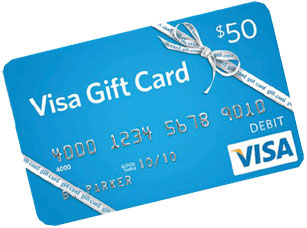 To play, all you have to do is follow these four easy instructions:
Download the Snapverse app, if you haven't already.  Remember, it's free!
Film an original, holiday-themed Snapverse video, including a holiday musical selection from the Snapverse app's fully-licensed music catalog, and at least one element of holiday cheer!
Share your video with your Facebook friends or Twitter followers, including the tag #SnapGreeting
Most importantly, leave a comment on this post with a link to your video so we can find it.
This giveaway ends on 12/22/13 at 11:59 PM EST, so make sure you post your link in the comments by then.  The contest deadline for the grand prize is 12/26/2013, and the winner will be announced on 12/30/13. And that's it!  The video can be of anything you'd like, as long as it's holiday-themed and includes the holiday music provided in the app.  You can use the new Selfieoke feature to create a personalized video carol, show off your favorite holiday dish, or even make a special holiday greeting for a loved one you might not see in person this year.  I want to see something that really captures the spirit of the season, and I can't wait to see what you creative folks will come up with.  I know it will be good! If you want to learn more about Snapverse, have a look at their website.  You can also "like" them on Facebook and follow them on Twitter.