Chocolate Mocha Mint Hot Cocoa Recipe
At this time of year, my mint hot chocolate addiction usually swings into full gear, but a certain donut shop has not been so cooperative in having my specialty available for me.  Thus, I have been forced to make my own.  I shouldn't really complain because it's much cheaper and certainly more convenient.  Oh, and it can easily be turned into a fun adult beverage, if that's your thing.  I know it's my thing.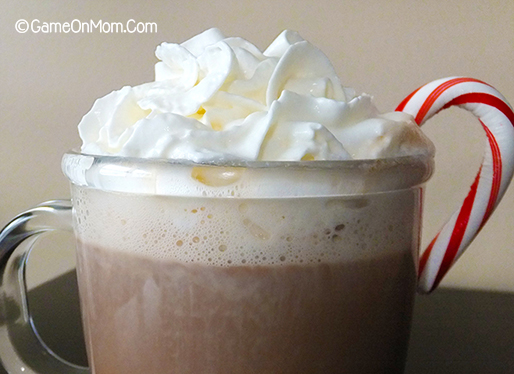 So yummy and so easy.  You can use any packaged hot chocolate as your base for this recipe, but I went with the Ghirardelli Chocolate Mocha Hot Cocoa.  It's a very rich and indulgent flavor, and it makes me feel a little extra fancy when I drink it.
Chocolate Mocha Mint Hot Cocoa
Ingredients
8 oz milk
3 tbsp Ghirardelli Chocolate Mocha Hot Cocoa
1 oz Peppermint Schnapps OR
½ oz Peppermint Syrup
Instructions
Pour your choice of peppermint into a mug
Heat milk in a small saucepan
Add hot cocoa and stir
Heat, while stirring, until steaming. Be careful not to boil it.
Add the hot cocoa to your mug of peppermint. I like to stir it with a candy cane.
Don't forget the whipped cream!
The idea of getting cozy in front of a fireplace with a mug of spiked hot chocolate is very appealing to me.  Unfortunately, I don't have the fireplace, but I can have my adult mint hot chocolate any time I want.  Again, you can opt for using peppermint syrup in the recipe if you prefer it that way.  It will be just as delicious; I promise!