Ghirardelli Chocolate Pumpkin Spice Cupcakes Recipe
This post is brought to you by Ghirardelli.
I most definitely bake more in the cooler months, don't you?  There's no need to worry about getting the kitchen too hot, and nothing makes you feel more warm and cozy than some delicious, homemade baked treats–especially when those treats are chocolatey.  And who do I think of when I think of chocolate?  Ghirardelli, of course!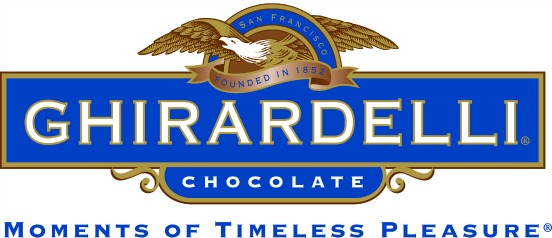 My recent accident has caused delays in all parts of my life, including my seasonal baking, but with the help of Ghirardelli (who supplied the chocolate) and my mother (who fetched things, mixed things, and did other things that prevented me from having to hobble around the kitchen on my crutches), I was able to bake up the perfect fall dessert:  Chocolate Pumpkin Spice Cupcakes.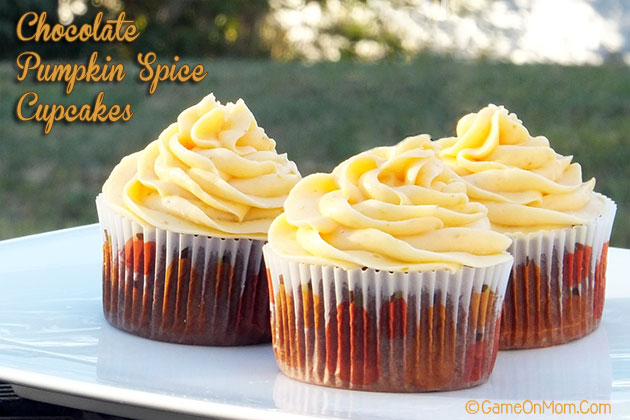 This yummy recipes features Ghirardelli 100% Unsweetened Cocoa for an amazingly rich flavor.  They're dark.  They're decadent.  They're so, so good.  The frosting has just the right amount of sweetness to compliment the cake.  It was my first time ever making a pumpkin frosting, and I was pleasantly surprised by the results.  The whole family ate these up!
Chocolate Pumpkin Spice Cupcakes
Ingredients

3/4 cup Ghirardelli 100% Unsweetened Cocoa
3/4 cup All-purpose flour
1/2 tsp Baking powder
1/2 tsp Ground nutmeg
1/4 tsp Salt
3/4 cup (1-1/2 sticks) unsalted butter,room temp
1 cup Sugar
3 Large eggs
1/2 cup Sour cream

For Frosting

8 oz Cream cheese, softened
4 tbsp Canned pumpkin puree
4 cups Confectioners' sugar

Instructions

Preheat oven to 350°.
Line a mini-muffin pan with mini cupcake liners.
In medium bowl, combine Ghirardelli 100% Unsweetened Cocoa, flour, baking powder, nutmeg, and salt.  Whisk together and set aside.
In the bowl of a stand mixer fitted with the paddle attachment, beat the butter and sugar until pale and fluffy, about 2 minutes.  Add eggs one at a time, making sure each is fully incorporated before adding the next.
Beat in half of cocoa powder mixture, then sour cream, then remaining cocoa powder mixture.
Fill each mini muffin cup 3/4 full with batter.
Bake 20 to 25 minutes until a toothpick inserted in the center comes out clean.
Let cool in pan 5 minutes before transferring cupcakes to a wire rack.

For Frosting

In the bowl of an electric mixer, fitted with the paddle attachment, beat together the cream cheese, and pumpkin puree until combined.
Add sugar and beat for 5 minutes until light and fluffy.
Frost mini cupcakes and serve immediately.

Servings : 32

Time : 1hr 15 mins
I made full-size cupcakes with this recipe because I don't yet own a mini cupcake pan, and they still only took 20 minutes to bake at 350 degrees.  I don't own a stand mixer either, but my trusty hand mixer worked just fine here.
What are you waiting for?  Go make some cupcakes!