Baby Bullet Review & Giveaway
When my babies were first born, I had every intention of being the best mommy ever and making all of their baby food myself.  I almost did it too.  Homemade baby food was abundant in the beginning, but I kept some of the expensive, jarred organic stuff on hand as backup.  Due to lack of time (and sleep) and the inconvenience of using my giant and difficult-to-clean blender, I'm ashamed to say that the backup foods eventually became main meals.  If only I'd had a Baby Bullet back then, I could have made the best food possible and saved money in the process.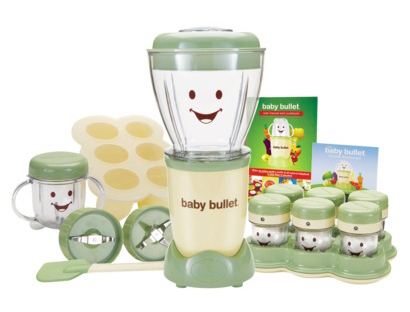 With the BPA-free Baby Bullet, making healthy food for your little one is quicker and easier than ever.  All the tools you need are included right in the box:
Batchbowl
Power Base
Short Cup with Lid
Milling Blade
Baby Blend Blade
Easy Pop Batch Tray with Lid
6 Date-Dial Storage Cups with Tray
Spatula
Pocket Nutritionist
User Manual and Cookbook
The Short Cup is perfect for small jobs, and I like to use it with the Milling Blade to make a nutritious breakfast cereal.  When you have a bigger job to get done, you'll want to break out the Batchbowl.  You can prepare your food for the whole week by mixing up a large batch in the Batchbowl and storing it in the nifty Date-Dial Storage Cups.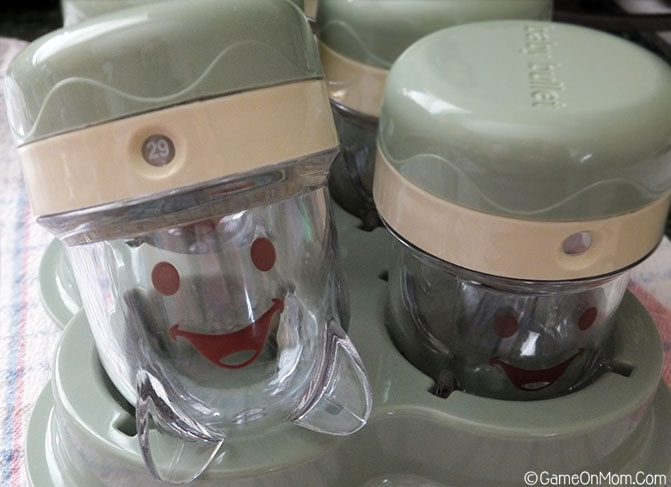 This might be my favorite part of the set.  The Date-Dial Storage Cups can be used in the fridge or the freezer, and you can set the date so you'll always know when the food was made.  No need to rely on your memory or messy labels.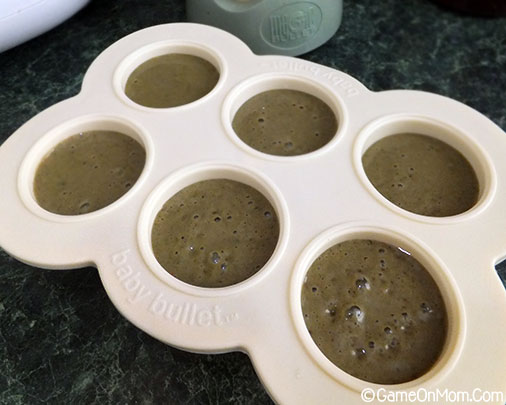 Or pour your purees into the Easy Pop Batch Tray, toss into the freezer, and you'll have even more food ready when you need it!
The Baby Bullet has so many useful features and is so easy to use, that it actually makes me sad that I didn't have one when my kids were still babies.  Then I look at the cute, smiling faces on the Baby Bullet parts and I'm happy again.  The past is done, but I can still find a lot of ways to put the Baby Bullet to work for me.
As I've mentioned a few times before, I still make a lot of fruit and vegetable purees for the kids even though they're a little older.  They're a great way to work some extra veggies into their diets, and a fruit & veggie puree in a reusable pouch is one of my favorite snacks to serve.  I also love making veggie purees that I can add into their lunches and dinners.  (Sneaky but effective!)  The Baby Bullet is just perfect for both of these applications.  My regular blender is enormous, heavy, enormous, hard to clean, and enormous.  Really, I rarely need a full-sized blender for the foods I make for the kids, and I admit that there have been times when I didn't make the food I wanted to just because I didn't feel like bothering with that monster of a machine.  The Baby Bullet is exactly the opposite, and it also fits much better on my kitchen counter!
Another bonus of the Baby Bullet system is a fun, alternate use for the Easy Pop Batch Tray.  Ice pops!  Healthy ones, of course.  It feels great to delight my daughter with a frozen fruit and veggie treat, like my Berry Healthy Popsicles, for dessert.  She really enjoys it, and I like that there aren't any unhealthy or artificial ingredients.  And that's how I feel about all of the foods I make with the Baby Bullet.  By making the food myself, I have complete control over what I'm feeding my children.  Not sure what to make or how to make it?  No need to worry; the Baby Bullet comes with plenty of recipes for each stage.
The Baby Bullet is the way to go if you have small children and want to feed them fresh, healthy food for an affordable price.  If you ever wanted to make your own baby food, but thought it would be too difficult, this is the product for you.  So simple and convenient, the Baby Bullet should definitely be on every baby registry!  For more information or to purchase, visit BabyBullet.com.
Enter to win a Baby Bullet!  Giveaway is open to US residents who are 18 and older.  Ends 9/18/13.  Good luck!
Game On Mom received a complimentary Baby Bullet for review.  All opinions are my own.  According to Jenny, Viva Veltoro, So Easy Being Green, the Blogging Mamas Network, and the Ready to POP! participating bloggers are not responsible for sponsors who do not fulfill prize obligations.