Quack All Over Boston on a Duck Tour!
Thank you to Boston Duck Tours for providing my family with tickets for their wonderful tour.
My family recently took a little trip to Boston, and we began the fun with one of their famous Duck Tours.  What's a Duck Tour all about?  You take a city tour, only instead of your typical tour bus, you get to see Boston by land and water from a WWII-style amphibious vehicle.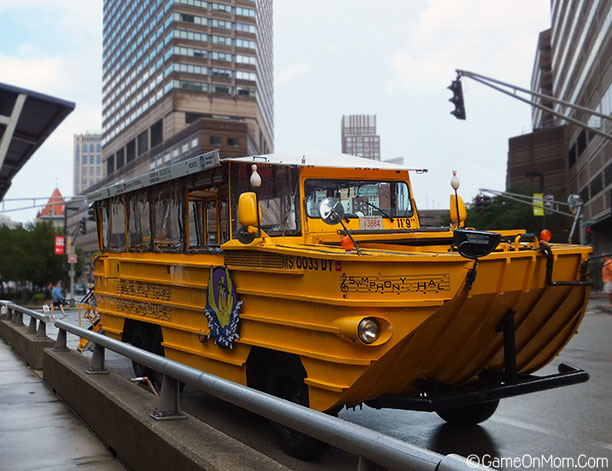 That was our Duck, Symphony Hal, which was driven by our conDUCKtor, Dr. Phineas P Duck.  Yes, we hadn't even left the Prudential Center yet, and we could already tell this tour had a lot of personality.  You might notice that things are looking a bit moist in the picture, and that's because it was POURING most of the time before, during, and after our tour.  Not only was it pouring, but there was a lightning situation going on, and they were pulling Ducks out of the water.  Since they couldn't promise that the water portion of our tour would happen, they gave us the option of staying on or getting a refund, and being the adventurous family that we are, we decided to stick with it.
And so, my very soggy family boarded Symphony Hal and embarked on a 80-minute journey through the extraordinary (and wet) city of Boston.  We waddled our way through historic neighborhoods like Beacon Hill and Charlestown, past beautiful parks like Boston Common and the Esplanade, and by landmarks like the Granary Burying Ground and the State House.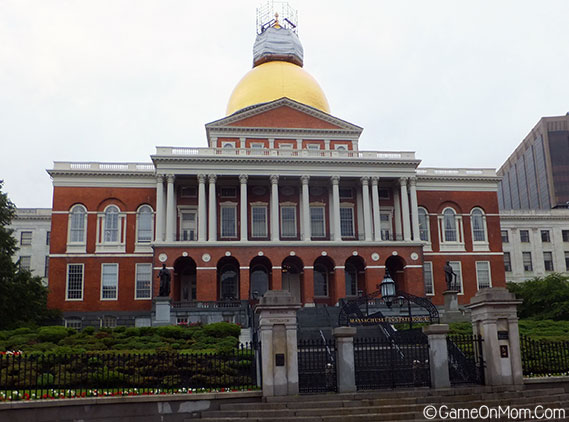 There are so many things to see in Boston that we would have felt satisfied with just the land portion of the Duck Tour, but we were in luck.  (Lucky ducks?)  When the time came for us to begin the water tour, the threat of lightning had passed, and we were able to dive into the Charles River, where we had an amazing view of Boston and Cambridge.  My son (3) and daughter (4) could not believe we were actually driving into the water, and they thought it was the funniest thing ever.  They were very impressed, but it got even better when my daughter got to drive the Duck!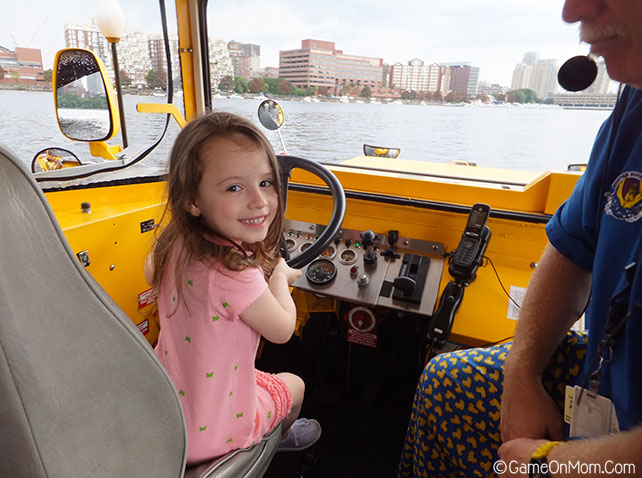 She was a natural!
The whole family had fun on the tour, and the kids especially enjoyed all of the quacking that went on every time we heard someone on the street say "Duck".  We learned a lot about Boston, but having the information delivered by an enthusiastic and very amusing guide made the event even more entertaining and interesting.  Now when I'm in Boston and see a Duck passing by on the street, I'll understand why everyone on it looks so happy…and why they're quacking.
Boston Duck Tours is something everyone should do at least once, whether you're a local or a visitor or you're with or without kids.  I suspect you could do these tours multiple times and the distinct personalities of the different tour guides would make each experience unique.  Take a look at the Duck Tour Guides and you'll see what I mean.  Even if you think you aren't a tour person, give this one a try.  I don't think you'll be disappointed, and I guarantee it will get you quacking!
Complimentary tickets were provided for review.  All opinions contained in this post are mine and my family's.  Quack!