Easy Santa Fe Chicken & Rice Recipe
This recipe for Santa Fe Chicken and Rice is a sponsored post written by me on behalf of Success® Rice.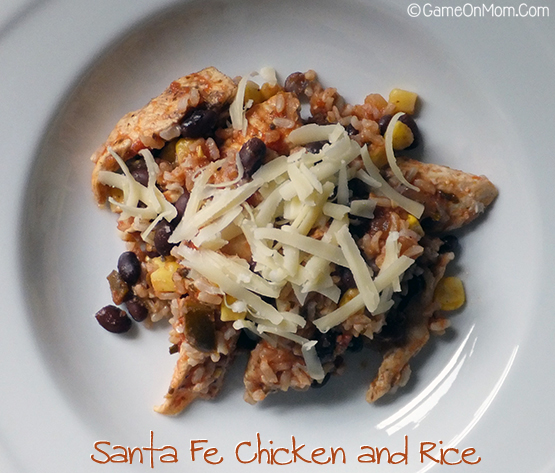 We've been through this before.  I like to feed my family food that is healthy and flavorful, but finding the time to actually prepare it is difficult.  When dinnertime rolls around and I've only gotten 1/3rd of my to-do list crossed off, it's tempting to pick up the phone and order some delivery.  Sure, it's a convenient option, but it's expensive and certainly not the best nutritional choice.
Instead, I turn to meals that I can quickly prepare with items I have on hand.  Success Rice is especially helpful because their boil-in-a-bag rice cooks up in just 10 minutes!  Did you know that Success Rice is the ORIGINAL no mess, no measure boil-in-bag rice?  I didn't, but I can tell you that it cooks perfectly every time.  The white and brown rice can sit for up to 30 minutes before being served, making them foolproof and versatile.  Let me show you how I used the brown variety to make some delicious Santa Fe Chicken and Rice!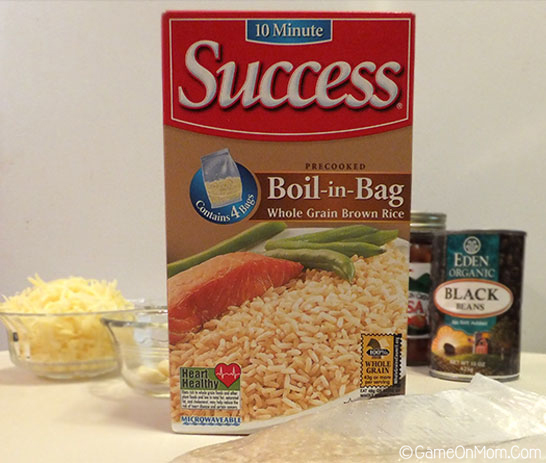 This recipe is adapted from the one found on the Success web site.  It features some simple ingredients, and in my case, things I always have in the fridge and cabinets.  Chicken is the main ingredient here, and you can save even more time by using the seasoned, pre-cooked chicken strips.  I don't use those products because they tend to contain salt and sugar (two things I generally avoid in my non-dessert foods), but you definitely can if you are unable to spare the extra few minutes on a busy weeknight.  I had originally hoped to use their Jasmine rice in this recipe, but I couldn't find a box in my local stores.  (Maybe you'll have better luck with that!)  Luckily, my old standby of brown works really well here.
Santa Fe Chicken and Rice is just right for my family because it's got tons of flavor.  It takes such little effort to make, but you'd never know it!  If my husband asks, I spent all day slaving over a hot stove, okay?  But really, it tastes so good and I love that it's packed full of fiber.  Bye bye cholesterol!  (Does that mean I get extra cheese?)  We like things spicy over here, so we use hot salsa in the recipe, but you can go with whatever your family prefers.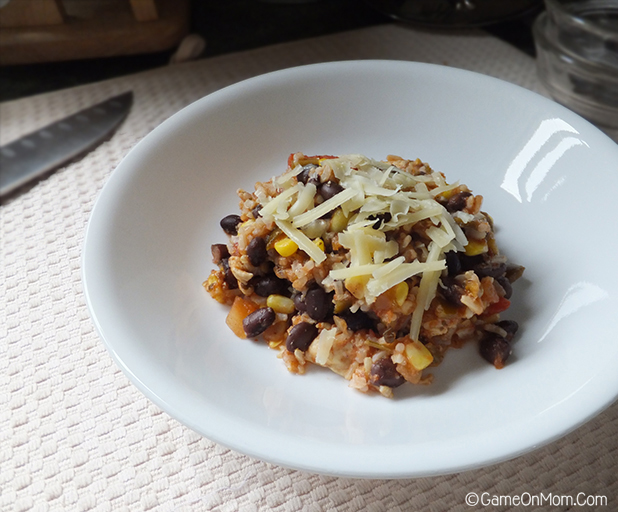 Easy Santa Fe Chicken & Rice Recipe
Ingredients
1 bag Success Brown, White, or Jasmine Rice
1 lb. chicken breast, cut into strips
1 jar of your favorite salsa
1 can black beans
1½ cups frozen corn, partially thawed
1 cup shredded jalapeño Monterey Jack cheese
3 cloves garlic, minced
½ tsp cumin
½ tsp black pepper
1 tbsp organic vegetable oil
Instructions
Prepare rice according to package directions
While rice is cooking, heat skillet and oil over medium heat
Add garlic and sauté for 30 seconds
Add chicken, cumin, and pepper and cook until chicken is no longer pink
Stir in corn, salsa, and beans, and heat until warmed through
Combine with cooked rice
Sprinkle with cheese
This is a quick and easy recipe that you can make any day of the week.  Head over to www.successrice.com to find more.  Don't forget to like the Success® Rice Facebook page for more recipes and lifestyle tips to make mealtimes easier and more fun!
With 4 varieties available including: Success® Whole Grain Brown Rice and Success® White Rice, and globally-inspired aromatic varieties of Success® Rice, including fragrant Thai Jasmine or Basmati Rice, there's a variety everyone in your family will love. Try your own twist on one of your favorite recipes by swapping an aromatic variety into some of your go-to rice dishes. To accommodate various households, Success® Whole Grain Brown Rice and Success® White Rice comes in two different sizes – 14 oz. or 32 oz.

So what are you waiting for? Use this coupon for $.50 off your next box so you can add this staple to your kitchen pantry: http://bit.ly/YwIYtq
This post was brought to you by Success Rice. All opinions are my own. Enjoy!