Win a 6-Month Subscription to Workouts on Demand!

Since I became a mother my time is more valuable than ever, but I still try to take a little for myself.  Unfortunately, when I say "little", I mean it literally.  Health and fitness are important to me, and I recognize the importance of squeezing them into my schedule, but how is one to do that when the family, the home, and the job are so demanding?  Well, the first thing I did was give up on going to the gym.  Getting back and forth, waiting for machines, and dealing with the locker room are all too time consuming.  And let's be honest; I never made it to an aerobics class on time even before I had babies.  I can't say that I miss other people's sweat too much either.  Thus, I have embraced working out at home.  You know what?  It's faster, more comfortable, and just all around more convenient, especially with great tools available like Workoutsondemand.com!
Workouts on Demand is exactly what it sounds like.  This fun little site gives you access to over 190 gym-style exercise videos that you can work out to in the comfort of your own home or while you're traveling.  You can stream them from anywhere you have an Internet connection, but you can also download them right to your computer if you like.  Don't you just love options?  One or two new workouts are added every week, so you'll have plenty to keep you busy here.  If you happen to have an LG TV or Bluray player, then you get a bonus because they have an app that lets you watch their videos right on your TV.  I don't currently have any LG electronics, so I will take a moment here to indulge in some self pity.
Okay, I'm done with that.  On to the workouts!  As I mentioned, they're coming up on 200 different videos to choose from, so you can imagine how much variety there is.  Whether you're in the mood to meditate, want to pump up those muscles, or you're feeling a little bit like a dancing queen, there is a workout here for you.  Actually, there are many workouts here for you.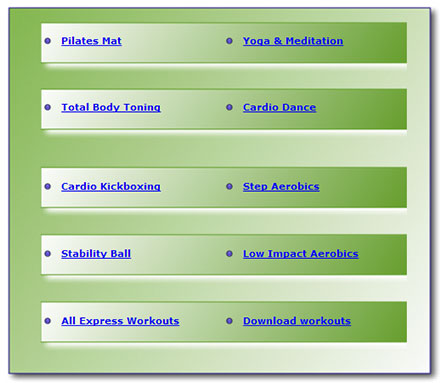 The children have taken complete control of my stability ball, so that's the only section I haven't yet explored.  I am especially well acquainted with the express workouts, but I love having all of the different categories available to me so I can pick whatever works best for me on a particular day.  If I want to squeeze in a quick 7 minutes of abs or I want to do a whole 40 minutes of cardio (or anything in between), I can.  I've even had some fun creating my own workouts by combining a few shorter videos together.  That really allows me to personalize my routine based on my needs, and it's also an interesting way of creating more variety.  You know, in case the almost 200 videos by themselves are not quite enough variety for you. ☺
Don't be frightened if you're a beginner either.  Over 80 of the videos at Workouts on Demand were designed just for you!  So, if you've been thinking about about exercising but weren't sure where to start, this would be perfect for you.  More advanced?  You'll find lots here to challenge you too.
You really can't beat the convenience of Workouts on Demand.  At any time of day or night, you have your pick of almost any kind of workout you could want, and you can view them from any location you choose.  Plus, the site is super easy to use; I didn't have any trouble streaming the videos.  Quick and easy.  That's how everything should be.  Preview their videos so you can see for yourself all the goodness they have to offer.  Follow them on Facebook too to keep up with the latest news.
Ready to start shaping up?  Enter via the Rafflecopter form below to win your own 6-month subscription to Workoutsondemand.com!  Open worldwide to anyone 18 or older.  Ends 4/25/13.  Good Luck!
a Rafflecopter giveaway
Complimentary access to Workoutsondemand.com was provided for review purposes.  No other compensation was received.  All opinions are my own.  According to Jenny, So Easy Being Green, the Blogging Mamas Network, and the Shaping Up for Spring participating bloggers are not responsible for sponsors who do not fulfill prize obligations.