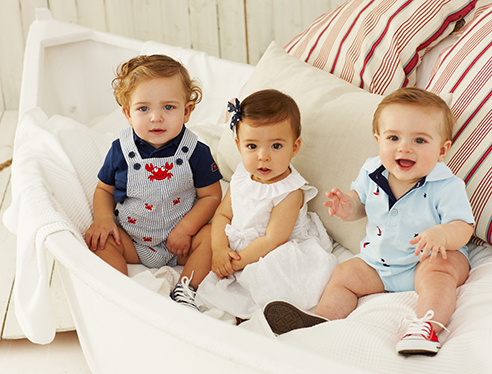 Look at those sweet faces!  Don't you just want to pinch all of them?  Babies are tiny, adorable, drooling miracles, and having my two little ones is the best thing I've ever done.  My son and daughter are just 14 months apart, and while I think there are definitely benefits to having them so close together, I have to admit that it hasn't been easy.  You endure a special kind of torture when you have two pregnancies back to back, and to be completely honest, I barely survived with my sanity intact.
Of course, the challenges that accompany having two children in such a short span of time do not end with the pregnancies.  Sleep didn't happen for a very long time, every day was a blur of feeding and diapering sessions, and lugging two tiny ones around town was almost impossible.  (I'd like to take a moment here to thank the inventor of the double stroller!)  So yes, it's a lot of hard work, but I don't regret any of it.  My special angels have been worth every minute of the pain they've inflicted upon me. ☺  
What I have always found fascinating is how people handle having twins or triplets (or even more–ouch!).  I can't imagine carrying more than one baby through a long and seriously uncomfortable pregnancy, nevermind trying to manage them once they're born.   That really takes a special kind of person!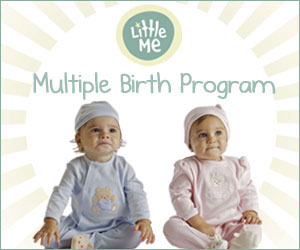 Multiple birth is a joyous occasion that is understood and cherished by Little Me. They understand that expecting a multiple birth is both a magical and a worrisome time in your life. They would like to help you focus on the double (triple, quadruple, or more) adorable smiles and giggles you'll have coming to you in droves!
To make things just a little easier, Little Me would like to offer you a "Welcome to the World" gift after your children's births. To receive your free gift please register for the Little Me Multiple Birth Program.
Enter now to WIN a $100 Little Me Gift Certificate!  Giveaway is open to US residents, 18+.  Ends 3/11 at 11:59 PM.  Good Luck!
Disclosure: I received compensation for this publication. My opinions are my own and may differ from those of your own.  Game On Mom is not responsible for sponsor prize shipment. Please contact teri@mompoweredmedia.com with questions or to see your business or blog featured on the next big event!