Get ready for some FEBRUARY SHENANIGANS!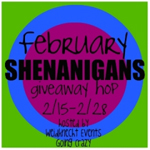 Welcome to the FEBRUARY SHENANIGANS GIVEAWAY HOP hosted by Planet Weidknecht and Going Crazy!! Wanna Go??!!
You've got from February 15 through February 28 to enter to win fun prizes from all of the blogs listed at the bottom of this post, but let me tell you all about mine first…
Let's talk about laundry.  It's an unavoidable, never-ending chore that we all need to do if we don't want to walk around looking (and smelling) like…well, like we don't do it.  If I find something that makes this task a little easier, a little better for my family, and a little less expensive, then I'm all for it.  Oransi's Robby Wash laundry ball is all of those things–read on, and you just might win one for yourself!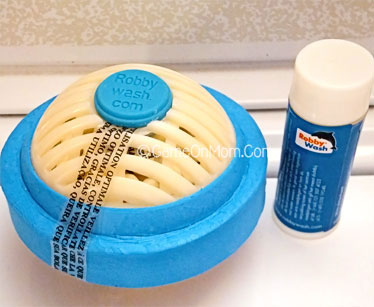 The Robby Wash ball is the laundry solution that you can use to clean your clothes for a whole year!  The ball protects your laundry from discoloration caused by chlorine in the water and eliminates odors with its antibacterial action.  It's also hypoallergenic, so it's good for people with sensitive skin or for washing the teeny, tiny clothing of teeny, tiny babies.
One package includes the ball, a stain stick, and three extra packets of macro-molecule pellets so you can refill the ball when needed.  This nifty tool comes in two different versions:  blue and fuchsia.  I got to try the blue laundry ball, which can be used for cold or hot water washes.  The fuchsia ball is designed for specialized cleaning of dark colors in cold water.  The balls can be used in both front loading high efficiency washing machines and standard top loading machines. 
To explain the magic behind the Robby Wash ball, I've stolen a blurb from the Oransi web site:
"The Robby Wash ball uses a unique and patented worldwide technology to clean your laundry even better than the powder laundry detergents it was independently tested against. Its activated macromolecules are gradually released through the wash, dissolving dried-in stains by generating ions which activate the water molecules.  This increase in the pH enables the activated molecules to penetrate deep into the fabrics and attach themselves to the stains. As the motion of the drum agitates the clothes, the stains come away easily from the fabric and dissolve in the water."

For me, the best part about using the Robby Wash ball is that I don't have to pour or measure anything.  I don't have to deal with carrying or lifting enormous jugs of detergent, nor is there a chance of spilling anything.  Just toss the ball into the machine along with the laundry and you're on your way to a lovely load of clean clothes.  How much time does that really save?  Enough.  ☺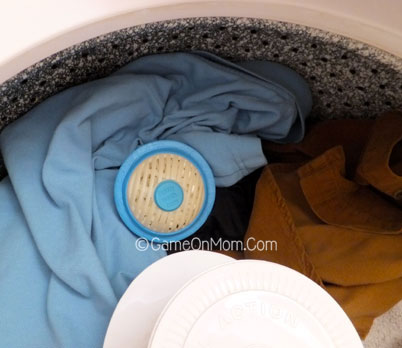 Sounds great, but does it actually work?  See for yourself:
First, let me thank my husband for being naturally messy and providing me with a stain of unknown origin to work with.  Thanks!
Okay, so as I mentioned, I had no idea what was all over this shirt, but it looked pretty foul.  So, I did a few swipes with the stain stick and threw the treated shirt in with the rest of the laundry and the Robby Wash ball.  Look!  No more stain!
For several weeks now, I've been using the ball as my exclusive method of grime fighting, and my laundry is as clean and fresh as ever.  It's a time saver and a money saver, which makes me a big fan.
If you'd like to try it out for yourself, the Robby Wash ball can be purchased at Oransi.com for $32.95 and shipping is FREE!  Find Oransi on Facebook and Twitter too.
You can also enter to win your own Robby Wash ball!  Giveaway is open to US residents who are 18 and older.  Good Luck!
a Rafflecopter giveaway
Thanks for entering my giveaway! Now, go enter all the others on the linky below!

I received a complimentary Robby Wash ball in order to facilitate this review. All opinions are my own. No other compensation was received.