Irish Potato Farls Recipe
St. Patrick's Day is just around the corner–yes, I can't believe it's almost March either.  Food and holidays go hand in hand for me, so I couldn't resist featuring a recipe for this one.  St. Patrick's Day might bring to mind images of corned beef, cabbage, and green beer, but for me, I think potatoes.  They're a weakness.
This recipe for Irish Potato Farls (or cakes or fadge or whatever you'd like to name them) involves just a few basic ingredients and is so easy to make that anyone can tackle the job.  I recommend serving these up in the morning with some fried eggs or at night as some breakfast for dinner.  While these do make an excellent breakfast accompaniment, I like to eat them anytime (potatoes = weakness).  You'll often see potato farls in a square or triangular shape, but I make mine circular because I'm a rebel.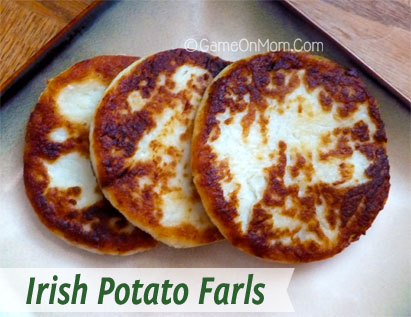 Irish Potato Farls
Ingredients
1.5 lbs potatoes
1 cup flour
4 tbsp butter
1 tbsp salt
oil/butter for frying
Instructions
Peel and cut potatoes into uniform cubes.
Boil with salt in a large saucepan until potatoes break apart when pierced with a fork.
Drain potatoes; add butter and mash.
Gradually add in flour until you have a workable dough. The amount of flour needed will depend on how moist the potatoes are.
Roll dough onto a lightly floured surface until it's just under ½ in. in thickness
Use a biscuit cutter (or an upside down glass) to cut out farls. You can shape them any way you like, this is just my preferred method.
Fry about 3 minutes per side until they're deliciously crispy, and serve with more butter!
If you have some leftover mashed potatoes you'd like to put to good use, you can use them as a starting point for this recipe too.  Either way, you're going to enjoy these!  Just try to resist overdoing it with the butter.  I tend to fail at that.
For more festive food ideas, check out the linky below: