Crazy Cupid Giveaway Hop!
Valentine's Day is considered by many to be the most romantic day of the year, and there are countless ways to celebrate the holiday and show that special someone you care.  Personally, whether it's at home or at a restaurant, a nice meal paired with some ridiculously delicious wine gets me into the spirit of the occasion…and I put special emphasis on the wine.  If you feel the same way, then you just might want to enter this giveaway for two wine-inspired prizes!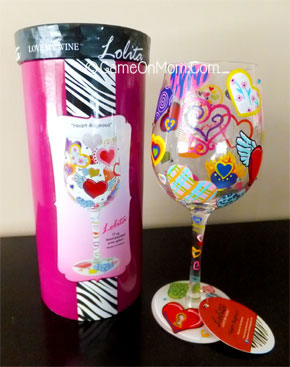 First up is a gorgeous hand painted wine glass from Designs by Lolita. This is my first experience with a Lolita glass, and I'm already a big fan.  Her designs are creative and playful, and she has something for every occasion you can think of.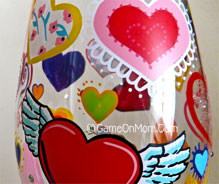 I was so happy to receive the 15 0z. beauty pictured above!  It's called Heart-rageous, and the various heart designs and shiny, little rhinestones that adorn this glass make it outrageously pretty.  Honestly, I was in love as soon as I saw the box.  In fact, I was almost as excited about the box as I was about the glass–so I'm a sucker for pretty packaging, shoot me.  The wine glass, of course, really is even more lovely.  Each heart is so detailed, and if you turn it upside down, you'll find a special surprise.  Like all Lolita glasses, there is a unique drink recipe printed on the bottom!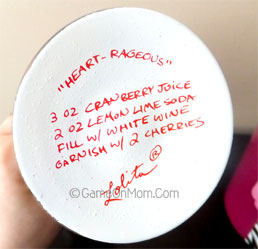 What I love most about the Designs by Lolita hand painted glasses, is that you can really inject your own personality into your drink with these.  It just makes the whole experience a little more whimsical and fun, and we all need more of that.
There's more too!  That's right, the fun doesn't stop with wine.  Whether you're a martini girl or you prefer a tall glass of cold beer, you can liven up your drink with a Lolita glass.  There are even more glass options than that, plus tableware, and more.  Check out the Designs by Lolita site to see them all, and don't forget to keep up with then on Facebook and Twitter.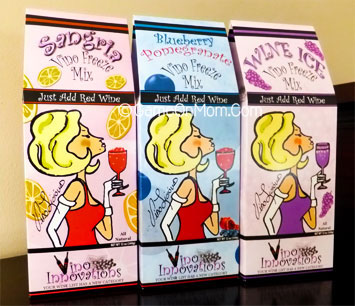 We have already established that I am a wine lover, but this product was entirely new to me, and I'm excited to share it with you.  Old World Gourmet is the award-winning maker of specialty drink and snack mixes, and they've got something very special in their Vinolicious line.  The Vinolicious boxes are a unique frozen party drink that adds a new twist and a lot of excitement to any wine you like to drink.
It only takes a few easy steps to make:  grab your favorite bottle of alcohol, add the mix, and freeze.  You can also prepare it by blending the mix with ice, but I never have ice on hand, so I went with the freezer method.  Either way you go, it's a whole new way to enjoy wine!
There are flavors for both red and white wines, and being a red wine girl, I chose to sample the red wine assortment, which includes:
Vinolicious Wine Ice – This has been the best selling frozen wine mix for over 10 years.  It goes well with any red wine, and I think it's the best one to start with if you've never had these before.
Vinolicious Sangria Freeze –  I've always enjoyed a good sangria, but I've never had the opportunity try it frozen.  I can't wait to drink this one during the summertime!
Vinolicious Blueberry Pomegranate – My favorite box of the three.  Pomegranate is an amazing fruit with an amazing flavor, and blueberry blends very well with it.  Fruity deliciousness!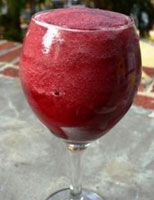 I still love my wine the old-fashioned way, but it's fun to try something a little different every once in a while.  They're so yummy and simple to make, I know I'll be enjoying them again.  They're also great for Valentine's Day and will go perfectly with your new Lolita wine glass!
Visit Old World Gourmet to see their other goodies; they have some very entertaining stuff.  Catch them on Facebook and Twitter too.
Both the Designs by Lolita hand painted wine glasses and the OWG Vinolicious line are great fun for you, but they're also perfect gifts for Valentine's Day.  I know I love mine!
Time to WIN!  One of you lucky ladies (or gentlemen) will be going home with your own Designs by Lolita Wine Glass and Vinolicious Red Wine Assortment!  Giveaway is open to US residents who are 18 and older.  Good Luck!
I was sent the products mentioned above in order to facilitate this review. No other compensation was received. All opinions are my own.