Get Organically Beautiful at Vitacost + Giveaway with 2 Winners!

Last year, one of my resolutions was to go organic whenever possible.  Most of the food I buy now is organic, and I've been using organic skin care products as well, so I think I've done a decent job.  One area that I've been neglecting is hair care, but Vitacost is helping me change that!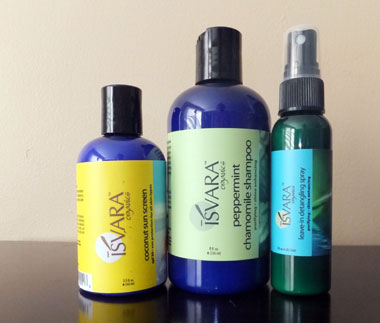 In case you aren't familiar with Vitacost, it's an wonderful online store where you can find healthy products at up to 50% off normal retail prices.  They carry almost everything you could need including vitamins, health foods, beauty products, pet items, and much more.  And lucky me, the generous people over at Vitacost sent over a lovely Isvara Organics gift basket to sample, which contained these three terrific products:
Peppermint Chamomile Shampoo – This sulfate-free shampoo is suitable for all hair types, and it's definitely been making my hair happy.  It lathers well for a sulfate-free product, and my hair looks healthy and shiny when I use it.  Honestly, I was sold as soon as I read that it contains organic jojoba oil.  Jojoba oil works miracles, and I'm pretty sure there's nothing it can't do.  Just ask my shiny, bouncy hair!
Leave-In Detangling Spray – Initially, I was a bit nervous about this one.  The dryness of winter can do a number on your hair, so I usually go with a rich, hydrating conditioner during those months, and I wasn't sure this would be enough.  To my surprise, this left my hair soft and static-free, plus it's way faster than my usual conditioning routine.  As a busy mommy, I appreciate every minute that I can save, and this was just what I needed.
Coconut Sun Screen – Okay, this one isn't a hair product, but we all need to protect our skin, and this SPF 30 zinc oxide sun screen is great for all skin types.  In the winter, I hibernate like a bear, so I haven't spent any time in the sun recently.  I tried this anyway, and I love the way it makes my skin feel.  Organic coconut oil and shea butter make this very hydrating, yet it's not at all greasy and it absorbed quickly.  It's a sunscreen and an amazing moisturizer all in one.  Love it!
I just love discovering organic products that can replace the less natural ones I've been using, so this was a really fun review for me.  Isvara Organics uses plant and flower extracts instead of the chemicals used by a lot of other cosmetic companies, and the result is a line of products that are natural, gentle, and healthier for you and the environment.  They don't test on animals, and a portion of their profits is donated to non-profit charities.  Isvara Organics is my kind of company.
Oh, and so is Vitacost!  As I mentioned earlier, they carry a huge variety of products, and you can find a lot of them in my kitchen and bathroom.  Seriously, I get all of my non-refrigerated organic foods their now as well as most of my cleaning supplies and skincare.  They have the items that I have difficulty finding elsewhere, and their prices are amazing.  The only thing better is their customer service.  I once had a very minor problem with an item that was shipped to me, and they handled it very quickly and were so friendly and apologetic.  Shipping is free if you spend $49–I always reach that minimum because I pick up so many of my groceries there.  Shopping at Vitacost is a pleasure, and I highly recommend creating an account if you haven't already.  If you sign up for Vitacost through my link, you'll get $10 off a purchase of $30 or more!
WIN!  Two winners will each receive $50 gift codes for Vitacost.com!  Giveaway is open to US residents who are 18 and older.  Ends 1/17/13 at 11:59 PM EST.
Good Luck!
I received complimentary products in order to facilitate this review.  No other compensation was received.  All opinions are my own.