Keep the Fun in Bathtime with a KAIR Bath Visor – Giveaway!
Ahh, bathtime.  It's a fun time full of toys, giggles, and bubbles, but it can quickly turn into tears and some yelling once you get to the shampoo phase.  I don't think any kids love getting soapy water in their eyes, and my kids seem to think having their hair rinsed with water is enough reason to be upset with me.  As hard as I try to avoid it, water and/or suds will trickle onto their faces…and that's when the screaming begins.  Suddenly, bathtime is a lot less fun, and that's the last thing you need to have happen at the end of a long, busy, tiring day.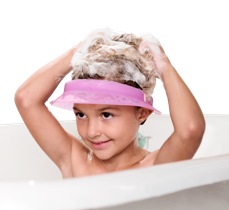 There is a very smart daddy out there who had the same concerns, and he's come up with an ingenious idea to put an end to the tears (and the headaches).  The KAIR Bath Visor is a BPA-free, soft silicone visor that will protect your child's eyes from the shampoo and water that like to run rampant during a bath.  It features a unique air cushion sealing tube that uses even and gentle air pressure to create a comfortable and leakproof fit for all head shapes and sizes.  Yes, ALL head shapes and sizes.  Whether you're using it on a 6-month-old baby or even an adult, it will work with equal effectiveness.
Unlike other visors on the market, this one really does stay put.  I never have to worry about trying to hold it in place with one hand while washing and rinsing with the other.  It really makes the shampoo process so much easier and less stressful for me and for the kids.  The best part is that my daughter can wear it and practice washing her own hair.  She loves to play with the lather, and it makes her feel like such a big girl.  Instead of fighting a shampoo like she used to, she actually looks forward to it now.
The KAIR Bath Visor is comfortable and truly leakproof, which makes for happy kids and happier mommies.  And the kids think wearing it is fun!  It's almost like a toy for them, only better, in my opinion, because it makes my life easier.  KAIR is so confident that you'll feel the same way that they offer a MONEY BACK GUARANTEE.  If you aren't completely satisfied with your visor, they'll refund your money!  Visit the KAIR web site to purchase your own bath visor for $24.99.  Shipping is FREE!
KAIR is also offering you a chance to win a bath visor!  Just enter via the Rafflecopter form below.  Giveaway is open to residents of the US and Canada who are 18 and older.  Ends 1/15/13.  Good Luck!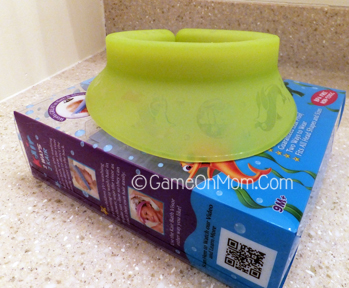 Kair provided a visor at no cost for review.  No other form of compensation was received.  All opinions contained in this post are my own.