Eliminate Odors with Fresh Wave – Review & Giveaway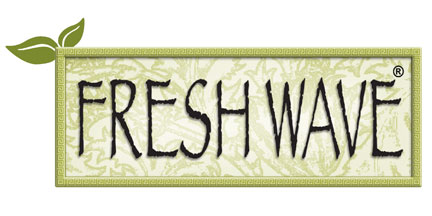 My house is stinky sometimes, and I'm not ashamed to admit it.  When you have two toddlers (and a husband) running around, odor happens; it's a fact.  While I don't have any love for unpleasant aromas like the ones that emanate from my kitchen trash can and my diaper pail, you will rarely catch me spraying air deodorizers or fresheners.  I don't like the idea of covering my home with frightening chemicals, and masking the odor with overwhelming perfumes doesn't appeal to me either.  So, I've mostly been just living with the problem and opening a window when I can.  I'm happy to say that I've recently discovered a brand that has put an end to my indoor air pollution woes.
The answer to my prayers came from a company called Fresh Wave, which produces a variety of natural, non-toxic odor eliminators.  Yes, they don't just cover up the odors, they eliminate them!  The simple and safe ingredients used in Fresh Wave products have earned them recognition from the EPA's Design for the Environment, meaning they're better for your family, for your pets, and for the planet.  They're made in the USA too, and you know how important that is to me!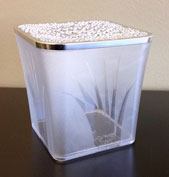 Crystal Gel Design Collection – This is a new item, and it's just fabulous.  The set includes 18oz. of odor-eliminating Fresh Wave Crystal Gel in a decorative frosted canister with a matte chrome lid.  The continuous-release Crystal Gel will naturally neutralize odors, and the canister is attractive enough to display in any room in your home.  This will last for up to 90 days; once it's done, just refill it!
Pearl Packs –  Small mesh pouches that you can toss into any enclosed space that is prone to stinkiness. LOVE these!  This is exactly what I needed for my diaper pail, and they work great in my closet too.  Each pack lasts about 30 days.
Home Spray – A non-aerosol spray that can be used anywhere you would normally spray an air deodorizer.  I like to walk around the house and target nasty smells with my powerful spray weapon.  It makes me feel like I'm battling the forces of stinky evil one squirt at at time.  I should wear a cape when I do that.
Travel Spray – Same as the Home Spray but in a smaller, more portable size.  I really look forward to taking this along on our next trip to visit my in-laws.  The hotel where we usually stay often smells of dog, so this would be perfect to have with us for the room.
I'm amazed at how effective a few simple ingredients are at eliminating the unpleasant odors that can linger in a home.  If you look at the labels of the Fresh Wave products, you'll find lime, pine needle, aniseed, clove, cedarwood, and sometimes water.  What you won't see are any harsh chemicals, added perfumes, or unrecognizable words.  The products do have a light, pleasant, natural scent to them, but it dissipates pretty quickly when in use.  I am really happy to have found a safe, eco-friendly product to help fight odors!
You can purchase Fresh Wave online or try their store locator to find a retail location near you.
Fresh Wave is generously offering my readers a chance to win a Fresh Wave Gift Basket, which will include the Home Spray, Soy Candle, 8-oz Crystal Gel, and a Design Collection (ARV$55).  Enter using the Rafflecopter.  Open to US residents, 18+. Ends 1/13/13.
Good Luck!
a Rafflecopter giveaway
Hop along and win!