ONE Coconut Water Giveaway – 2 Winners!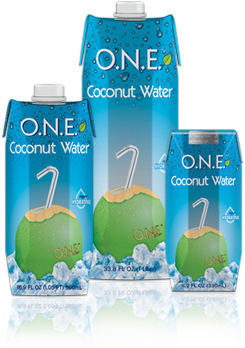 There has been a lot of buzz about coconut water recently, and for good reason.  ONE is 100% natural coconut water, which is the naturally sweet water from inside a young green coconut.  What's so special about that?  A whole lot of things!
There are several reasons why you'll love coconut water:
It contains all five of the essential electrolytes–calcium, potassium, phosphorus, magnesium, and sodium
It's high in vitamins, minerals, antioxidants, and other nutrients
No added sugars
No fat
No cholesterol
No preservatives
For all these reasons, coconut water is an excellent choice for keeping yourself hydrated.  I'd much rather hydrate with some coconut water than with a sports drink that is loaded with sugar (or worse, artificial sweeteners!), preservatives, and colorings.  It tastes great too!  ONE Coconut Water is light and refreshing, and it's a healthy, low-calorie alternative to regular water.  Don't get me wrong; I do love my water.  It's just that it's nice to have an option that provides additional health benefits and has a bit more flavor.
And they do have flavors!  ONE is currently available in four of them:  Original, ONE with a Splash of Pink Guava, ONE with a Splash of Pineapple, and ONE with a Splash of Mango.  The splash varieties are 80% coconut water with fruit puree and a touch of cane juice (a healthy alternative to refined sugar).  With ONE Splash, you get the same great benefits of their original coconut water with an extra tropical twist.  The pineapple is my favorite!
While they taste great as they are, you can also get creative with your coconut water.  Why not try some in a fun recipe like this one for a Coconut Water Chocolate Peanut Butter Smoothie?  YUM!
Coconut Water Chocolate Peanut Butter Smoothie
Ingredients
4 bananas, peeled, broken into quarters and frozen
1 Tbsp cacao or carob powder
2 Tbsp peanut butter
1 cup ONE Coconut Water
Instructions
Place the ONE Coconut Water, peanut butter and chocolate powder into the blender and blend until well mixed.
Then add the frozen bananas, and using the stick attachment to the blender, push the bananas onto the blades and blend until thick.
Notes
If you don't have a stick attachment, then just pulse the blender until the bananas are well blended.
This smoothie is healthy, delicious, and so easy to make.  You must try it!
Oh, you do want to try it?  You're in luck, because ONE is generously offering two of my readers a chance to win some coconut water for themselves!
TWO WILL WIN one case of each flavor of ONE Coconut Water!  That's 4 cases:  (1) Original, (1) Pink Guava, (1) Pineapple, & (1) Mango!
Enter using the Rafflecopter.  Giveaway is open to US residents, 18+ Ends 12/29/12. 
Good Luck and Happy Holidays!

Complimentary samples were provided for review.  No other compensation was received.  All opinions are my own.