Lucky '13 Giveaway Hop: Premama Vitamins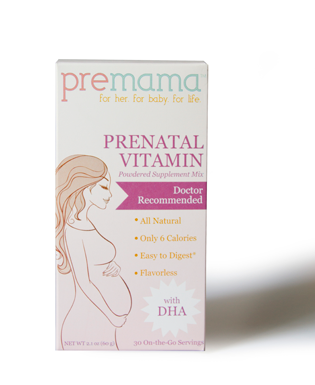 If you currently are or ever have been pregnant, you're probably familiar with those enormous vitamins the doctors demand you take.  While I'm all for being healthy, swallowing a pill the size of a Buick is never an easy thing to do, and when you're pregnant, it can even be disastrous.  How else are you going to make sure that you and your baby get enough of the nutrients you both need?  Ahh, well, there is another option!
Premama is an an all natural, powdered prenatal vitamin supplement that you can mix into one of your favorite beverages.  Ingredients found in Premama Vitamins (including folic acid, CoQ10, calcium, and DHA) have been proven to reduce the risk of some birth defects by 70% or more.  Premama contains ginger root to help reduce nausea and a special iron blend that is easy to digest and has been clinically proven to be the most absorbent type of iron.
I'm especially a fan of the easy to digest feature.  Pregnant or not, I've had a lot of trouble taking different vitamins as they tend to make me experience nausea.  This has not been the case with Premama Vitamins, and I can't tell you how happy that makes me.  Who wants to get healthy by feeling sick?
Premama suggests mixing the powder with juice, fruit flavored beverages, iced tea, and milk.  I've been mixing it with water, and I can hardly detect a taste at all, though they say you might notice a mild ginger flavor.  As you can see, there are a lot of ways you can take Premama.  Go ahead and add it to a yummy smoothie or a shake–now taking vitamins can actually be enjoyable!
Premama is most effective while trying to conceive, during pregnancy, and while nursing, but prenatal vitamins are recommended for any woman of childbearing age.  To learn more or purchase Premama vitamins, swing by DrinkPremama.com.  You can also visit them on Facebook.
Win a 30-Day Supply of Premama Prenatal Vitamins (RV $25)!  Open to US residents who are 18 and older.  Ends 1/12/13.
a Rafflecopter giveaway
MomSelect provided me with a 30-day supply of Premama in order to facilitate this review.  No other compensation was received.  All opinions are my own.