Get Smart with Knock out! Panties + Giveaway!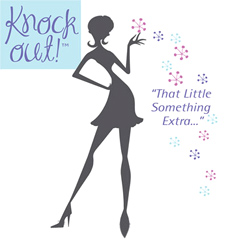 Knock out! Smart Panties were created by Angela Newnam to solve an unmentionable problem with women's unmentionables.  If you're a woman, you know that sometimes something as simple as a warm day or an unexpected sneeze could cause embarrassing and uncomfortable moisture issues.  Other than wearing pantiliners, there hasn't been much we could do about it–until now.  Knock out! Smart Panties feature a breathable, cotton liner that has patented NO TRACE technology.  What is NO TRACE technology?  It's what puts the "Smart" in Smart Panties!
NO TRACE technology enables cotton fabric to wick moisture away from the body, pulling it to the outer side of the liner, dispersing it, and preventing it from moving back toward the body.  This will keep you feeling clean and dry throughout the day and your clothing will be protected.  It even absorbs odor!  So long pantiliners!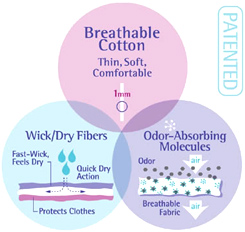 The technology works.  In fact, it works so well, I forget it's even happening.  Odor and wetness?  Pfft…they're no match for me and my fancy pants.
That's right.  I was fortunate enough to have the opportunity to try Knock out! Smart Panties for myself!  My panty buffet was made up of several of their styles, including:  the Bikini, the Lacy Bikini, the  Lacy Brief, the Boy Short, and the Lacy Panty.
Made of the world's finest Supima cotton, Knock out! Smart Panties are soft, breathable, and so very comfortable to wear.  As you can see from the picture, they're also very pretty!  And oh, the lace!  I don't typically choose lacy undies as I find them itchy and irritating, but the lace on the Knock out! Smart Panties is so soft.  You won't have to sacrifice comfort for beauty with these.  You don't have to worry about them riding up or sliding down either–these panties stay put.  No droopy drawers here!
Caring for Knock out! panties is easy too.  They're machine washable in warm or cold water (preferably with fragrance-free detergent), and you can even toss them in the dryer.  Just keep in mind that they are lingerie, so it's always a good idea to use a lingerie bag if you want to keep them looking their best.
And did I mention these little beauties are made in the USA?  It's true.  Just when you thought this couldn't get any better, right?
In case you haven't already figured it out, I am completely in love with these panties.  They address every concern I've had in the past about underwear; It almost seems like they were made just for me!  Some of you might be concerned that they seem a bit pricey.  When you take into account the high quality material used, the No Trace technology, and the fact that they are made in the USA, they really aren't a bad value…especially when you factor in the money you'll save on pantiliners.
Knock out! brings you performance and comfort in a beautiful panty.  Wear them when you exercise, wear them when it's warm out, or just wear them because they make you feel pretty and confident.  Give them a try; I know you'll love them as much as I do.  And then when someone calls you a smarty pants, you can tell them that they're absolutely right  🙂
Keep up with the latest from Knock out! by connecting with them on Facebook, Twitter, Pinterest, and their blog.
Buy them!  All of their products are available for purchase through the Knock out! web site.  You can also search for a local retailer.
Win them!  Knock out! is offering one of my readers a very generous prize.  One of you will win 7 pairs of Knock out! Smart Panties of your choice!  That's at least a $168 retail value!  Enter via the Rafflecopter below.
Good Luck!
I received complimentary Knock out! Panties to facilitate this review.  No other compensation was provided, and all opinions are honest and my own.