Entertain Like a Gentleman Cookbook Giveaway!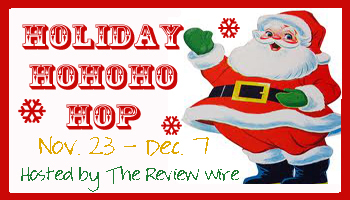 For my prize in the Holiday HoHoHo Giveaway Hop, I've got something that will help you prepare for all the fun holiday gatherings ahead!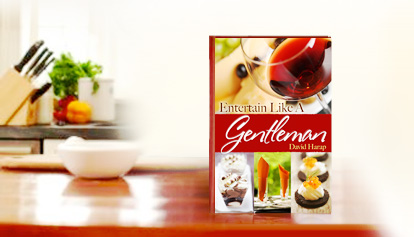 More and more men are finding the joy in cooking, and if that means even just a little bit less cooking for me, then I'm all for it!  And what better way to encourage such admirable behavior than with a book full of 75 original and delicious recipes?
Culinary instructor David Harap has come up with a cookbook that will help any man impress his guests.  The recipes are easy to prepare yet will leave your guests wondering where you learned it all.
Entertain Like a Gentleman is sectioned by event type and includes such themes as "Superbowl/March Madness", "Cooking with the Kiddos", "Romantic Dinner," and my personal favorite, "It's Too Damn Hot to Cook".  There is a menu for every occasion, and you'll be serving up culinary creations like Tarragon Chicken Skewers with Pistachio Cream Sauce or Chili Rubbed Beef Tenderloin Sliders in no time.  And don't forget the dessert!  Yes, I think I will have some S'mores Bars.
In addition to the many fun recipes, David has included a slew of tips and tricks to help you prepare for the great sport of entertaining.  Not sure what tools you need?  Not a problem.  Do the measurements confuse you a little?  There's a chart for that.  Need help figuring out which cheese goes best with which wine?  Me too.  You will find this and tons of other helpful hints throughout the book.  David's got it all covered!
My husband has always wanted to be more involved in our meal preparation and party planning, but he was definitely in need of some guidance.  This is the perfect solution, and he was genuinely as excited as I was to be able to try it out.  It's only been a few weeks, and he's already looking more gentlemanly!  Some of our favorite recipes so far are the Brioche French Toast Stuffed with Strawberries & Cream, Cobb Salad Sandwiches, and Paprika Candied Pecans.
Entertain Like a Gentleman would make an excellent gift for a man who enjoys entertaining or anyone who appreciates great food.  Visit Likeagent.com to purchase a copy or…
Win one!  One reader is going to receive a copy of this fantastic cookbook.  Just enter via the Rafflecopter form below, and then hop to the other blogs for more giveaways!
Giveaway is open to US residents who are 18 and older.  Ends 12/7/12 at 11:59 PM.
Good Luck!
a Rafflecopter giveaway
');
// ]]>
*I received a copy of Entertain Like a Gentleman to facilitate this review. No other compensation was provided. All opinions are my own.