KidsLac Probiotics & Giveaway!!!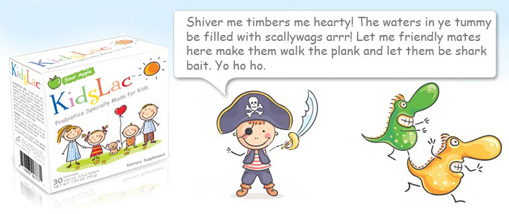 Probiotics have been talked about a lot recently; I'm sure you've seen those yogurt commercials.  Why should you care about them?  Taking probiotics helps to increase the amount of "good" bacteria in your digestive tract, which helps keep it a happy, balanced place.
A balanced intestinal tract functions more efficiently, and the benefits can be considerable.  This balance improves absorption of the nutrients from food and supplements, and it also encourages a healthy immune system.  Probiotics can be especially helpful when taking antibiotics, as antibiotics are known to wipe out the good right along with the bad bacteria, which can result in problems like diarrhea.
Probiotics have been used to combat a variety of conditions, including urinary tract infections, irritable bowel syndrome, and even eczema.  I've also heard of people using them to treat reflux.  My son has had problems with that in the past, and although he's been taken off of medication for it, I occasionally feel like all is not completely well in tummyland, so I was really happy to have a chance to try KidsLac Probiotics.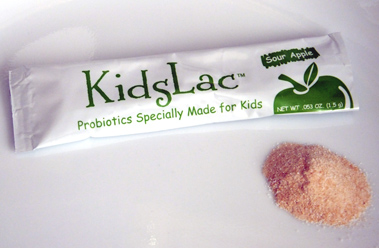 KidsLac contains five unique strains of friendly bacteria specifically selected and blended to benefit children's digestive systems.  It comes in a kid-friendly sour apple flavor, and the box is just adorable.  For those of you who are not fans of sugar substitutes, I do want to mention that this contains stevia leaf extract.  I wouldn't mind if it came in an unflavored or unsweetened variety.
The powder is not difficult to incorporate into your little one's diet.  It can be stirred into cool food or beverages or taken directly from the packet.  I tried eating it right from the packet myself, and I found that I needed some water to completely rinse it down.  For my picky son, I've been mixing it into some applesauce.  He hasn't even noticed a difference, so I think that's the method I'll stick with.  Why mess with what works, right?  🙂
For more information on KidsLac, visit their page on the Global Health Trax web site.  You can also find them on Facebook and Twitter!
Would you like to try KidsLac and see for yourself how it can help support your child's natural defense systems and reduce occasional digestive upset?  Then use the Rafflecopter below to enter to win a full-sized box! Giveaway ends 11:59 PM on November 1st, 2012.
a Rafflecopter giveaway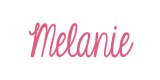 *I am not making any medical claims with this post. Always consult a physician about any health-related concerns you have.  I received a complimentary box of KidsLac to faciliate this review.  No monetary compensation was received.  All opinions expressed are honest and mine, all mine!