Dark Shadows Blu-ray DVD Combo Pack Giveaway!
In case you somehow missed it, Johnny Depp and Tim Burton teamed up to yet again make a very memorable and entertaining movie:  Dark Shadows!  The film is based on the classic daytime series and features Johnny Depp in the lead role of Barnabas Collins.
On October 2nd, Warner Bros. released Dark Shadows on Blu-ray and DVD, and to celebrate they're bringing you this fun blog app and a great giveaway!
Are You Creepy Enough? Take the quiz on the app below to find out!
Apparently, I am COLLINS CREEP-TASTIC!  Who knew I was so spooky?  Try the rest of the app to have even more fun, and if you haven't seen the movie yet, you can watch the trailer too.
Now for the giveaway!  One of you will win your very own Blu-ray DVD combo pack of Dark Shadows…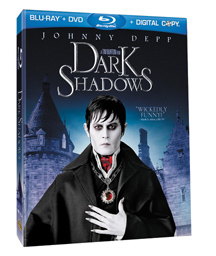 GOOD LUCK!
* I did not receive any compensation for hosting this giveaway.  Thank you to Warner Bros. for providing this prize!