Cranberry Cherry Banana Bread Recipe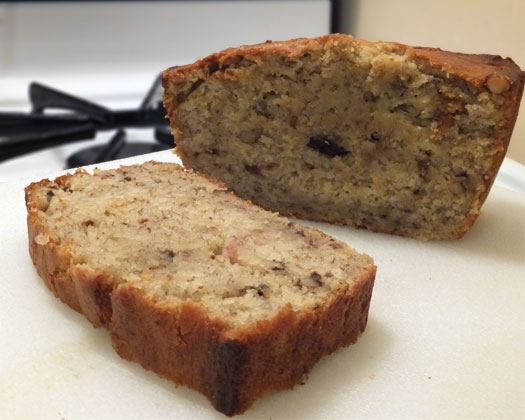 Cranberry Cherry Banana Bread
This recipe makes a moist and delicious banana bread with some dried cranberries and cherries thrown in for a little extra fun. It's fabulous even without the fruit, so try it both ways!
Ingredients
4 overripe bananas
2 eggs
¼ cup milk
½ cup unsalted butter
1 cup sugar
2 cups flour
1 tsp baking powder
½ tsp baking soda
½ tsp salt
½ cup chopped walnuts (optional)
¼ cup dried cherries (optional)
¼ cup dried cranberries (optional)
Instructions
Preheat oven to 350 degrees.
Sift together flour, baking powder, baking soda, and salt. Set Aside.
Cream sugar and butter.
Add slightly beaten eggs.
Add bananas and mix well.
Stir in sifted ingredients.
Fold in nuts, cherries, and berries.
Bake in a greased loaf pan for up to 1 hour.
Notes
I start checking mine for doneness at 45 minutes. The fourth banana really makes this moist, so keep this in mind when checking. If you don't have or can't find dried cherries, you can substitute more dried cranberries.