Prize Coffee Cake Recipe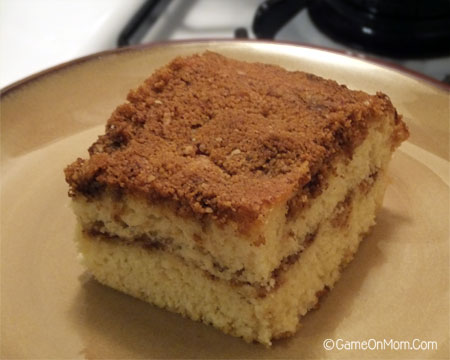 This recipe is super easy and delicious. I've been known to double the amount of topping--I like it sweet!
Ingredients
¾ cup sugar
¼ cup shortening
1 egg
½ cup milk
1½ cups sifted flour
2 tsp baking powder
½ tsp salt
Topping
½ cup brown sugar
2 tbsp flour
2 tsp cinnamon
3 tbsp melted butter
½ cup chopped nuts (optional)
Instructions
Preheat oven to 375º.
Cream sugar, shortening, and egg.
Stir in milk.
Sift together the flour, baking powder, and salt. Stir into mixture.
Spread half of the batter in a greased 8 in. square pan.
Sprinkle with half of the topping.
Add remaining batter.
Top with remaining topping.
Bake for 25-30 minutes.
Eat warm or let it cool!